Dillian Whyte says injury prevented Anthony Joshua KO
By Stephen Turner
Last Updated: 15/12/15 12:41pm
Dillian Whyte wants a rematch with Anthony Joshua and says a shoulder injury prevented him winning by knockout before his own brutal stoppage at the O2.
The heavyweight rivals' personal dispute went the way of Joshua, who hurt Whyte with a blow to the temple before finishing him off with an uppercut in the seventh round to avenge an amateur defeat.
But the Olympic gold medallist had to come through the first big test of his professional career in the second when he was wobbled by a Whyte left hook.
And the Brixton man claims his "shoulder went" in the act of delivering that punch, so much so his corner suggested pulling him out at the end of the round.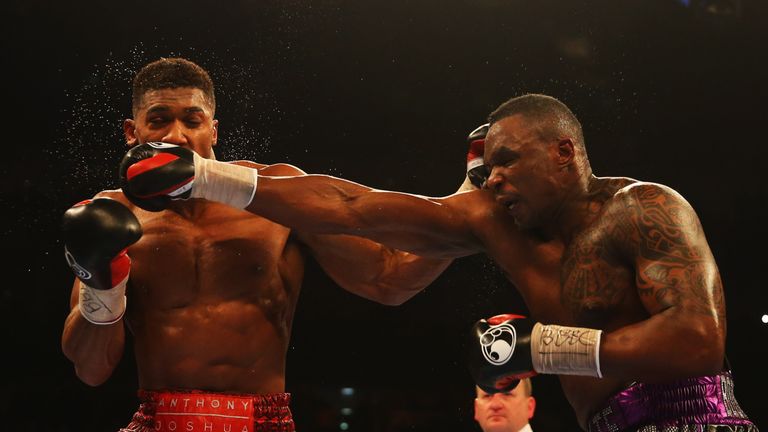 In his first detailed interview since the Sky Sports Box Office main event, Whyte told Sky Sports News HQ: "I had him out on his feet, he was stumbling around. I hit him and he stiffened up, but at the same time I hit him my shoulder went so I couldn't really finish him off.
"But I'm not going to make any excuses. My trainer said 'do you want to stop the fight' and I said 'I'm not going to let these fans down, I'm going to be the true warrior I am and go out on my shield'. And that's what happened."
Eddie Hearn has suggested a British title defence against Dereck Chisora could be the next step for Joshua, but Whyte fancies another crack - and he is convinced the result could be different given another chance.
He said: "Let's get it on and definitely do it again. It was a good fight, we both drew a massive crowd. It's 1-1 - let's do it again and see who'll win the third fight.
"I believe I can beat him, and not only beat him, I believe I can knock him out. Everybody was giving me one round, two rounds, half a round. It was a 50-50 fight up until I got caught.
"I proved to everyone in Great Britain I'm just as good a fighter as him. We're both heavyweights, we both can bang. One of us was going to go to sleep, and unfortunately it was me, but that's heavyweight boxing."
The bad blood between the fighters threatened to take a nasty turn when Joshua caught Whyte after the bell at the end of the first round, prompting his opponent to react with a blow of his own and then a huge haymaker over referee Howard Foster's head.
The wild swing did not connect, and the fight was allowed to continue, but Whyte claims he would have been disqualified had he been guilty of Joshua's initial misdemeanour.
"If I threw those punches after the bell, a million per cent I'd have been disqualified," he said. "I can bet my life on it, but I'm not going to make excuses.
"The referee didn't disqualify him, and I'm sure the referee made the right decision. I'm not going to say he should or shouldn't have been disqualified, I'll let the people decide what they think.
"But he's a dirty fighter - he's been doing that a lot lately, hitting people after the bell. I don't know whether he wants people to think he's more nasty than he is or whatever...he hit me after the bell and I went back after him. I'm not going to let anybody roll over me."