Joshua vs Takam: Talking points from world heavyweight title fight
By James Dielhenn
Last Updated: 30/10/17 12:01am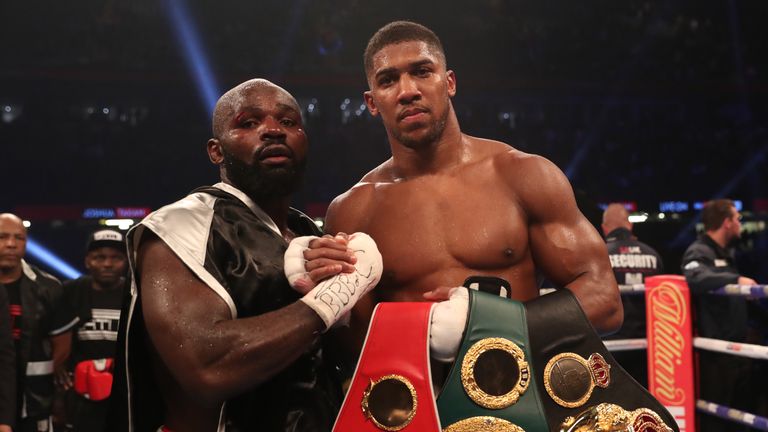 Scratch a dogfight off the list of likelihoods to beat Anthony Joshua. The world heavyweight champion's heart and gameness are now beyond question, writes James Dielhenn.
There are plenty of fighters who dish out punishment, earn their dangerous reputations, then crumble when adversity smacks them in the face. Joshua may have his flaws, as his rivals will point out, but his propensity to bite down on his gum-shield isn't one of them.
A nasty clash of heads in the second round, the type of intangible that nobody can prepare for until it cracks your nose when you least expect it, threatened to skid Joshua's night somewhat off course. His natural reaction was to snarl and ramp up his desire for a quick knockout but it never came. Instead, we saw him box thoughtfully. You think back to when Joshua told Sky Sports pre-fight about his admiration for technical master Guillermo Rigondeaux and you wonder if that type of performance is the world heavyweight champion's long-term dream.
Those who have watched or researched Carlos Takam, Joshua being among them, will have predicted his ability to drag Saturday's fight into the latter half. He took Joseph Parker the distance last year, and had only been stopped once in 39 outings previously. He was never a pushover.
But any lingering fear that Takam's short-notice call-up would limit his ability to dig deep was expunged in the fifth round when, with blood oozing from his above his eye, he rejected the perfect opportunity to end his night with dignity and let the ringside doctor carry the can for stopping the fight. Takam returned to battle, still bouncing on his toes, still defending himself behind his boulder-like shoulders. At this point, Joshua was forced to inhale sharply and try again.
Early stoppage... There's always something these days. Would have been nice just to let it play out one way or another. Takem still looked strong & with his senses! Very good test for AJ tho... especially with the broken nose. #JoshuaTakem

— Lennox Lewis (@LennoxLewis) October 28, 2017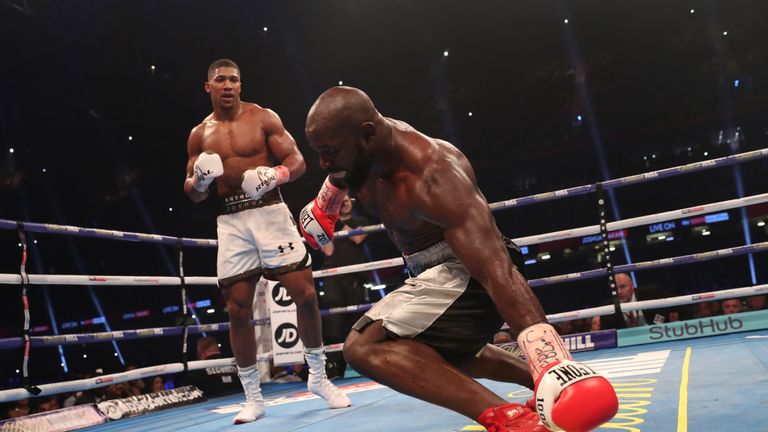 He had already come through more stringent examinations, of course, having clambered off the canvas against Wladimir Klitschko earlier this year, but sometimes it can be the complacency of this sport that catches up with champions. Had Joshua prepared as intensely for a mandatory defence of his belts as he had for his first career-defining night against Klitschko? Tough but unheralded opponents like Takam have accounted for big-name title-holders who failed to adequately ready themselves in the past - Lennox Lewis, Mike Tyson and, indeed, Klitschko among them.
So it was interesting to see how Joshua navigated his bigger-than-ever frame into the final rounds, presumably with a devil on his shoulder reminding him of the fatigue that he felt against Klitschko, especially because his blood-filled nose would have prohibited his breathing. This time, Joshua was more comfortable on the defensive because Takam, gamely throwing occasional overhands, couldn't pressurise him like Klitschko did. Joshua was able to pace himself while still winning rounds against Takam, a practice which will be invaluable experience going forwards.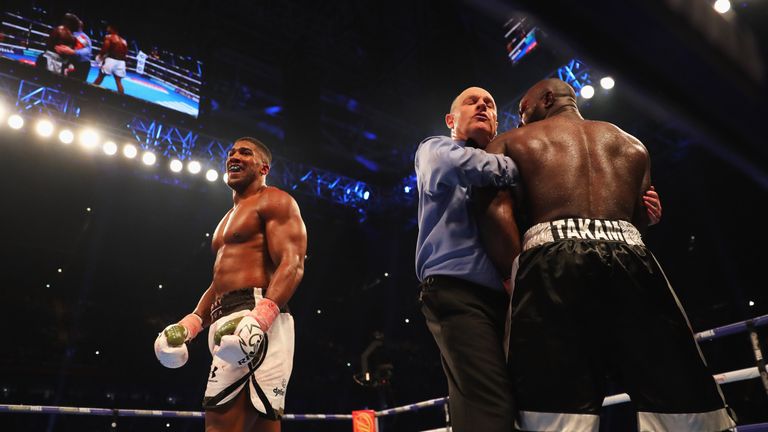 This version of Joshua weighed in at a career-heavy 18st 2lbs, bigger than Tyson Fury or Klitschko when they met two years. Bigger than Parker or Deontay Wilder, his peers as world champions, have ever weighed. The sole time Lennox Lewis was heavier than Joshua's most recent weight was before his final fight, against Vitali Klitschko. Joshua is built to be the bully so it is a feather in his cap that he won despite a brave challenger's refusal to be bowled over.