Tony Bellew says he knew he would beat David Haye in the first round
By Peter Gilbert
Last Updated: 11/03/17 12:39pm
Tony Bellew claims he knew in the opening round that he would win last week's heavyweight grudge match with David Haye.
WBC cruiserweight champion Bellew upset the odds with a thrilling 11th-round victory over the former heavyweight champion at The O2.
Bellew was convinced he would defeat Haye after trading punches in the first round and exchanged words with his domestic rival at the end of the fifth.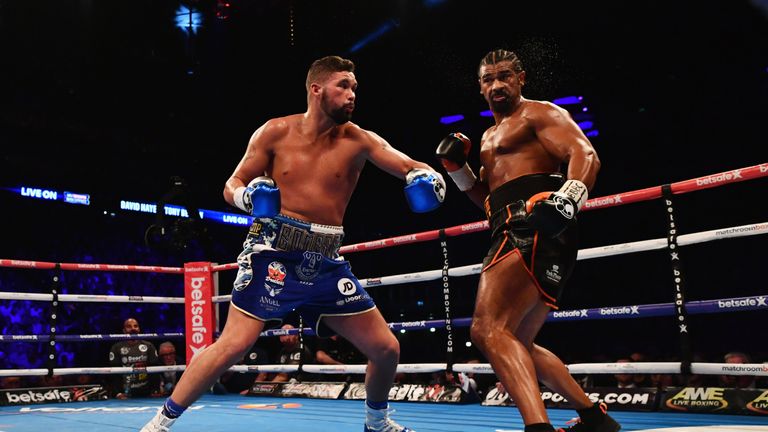 "I said to him 'you're blowing, you're blowing boy' because I knew he had hit me with his best, he's disheartened and I've got a little cut on my head, it was just a scratch," Bellew told Soccer AM.
"I said to him 'you're blowing boy' and I knew from the end of the fourth round that I had him, even in the first round in my mind I'd won the fight in the first round.
"We got into an early exchange and I hit him with a left hook on the temple, and I've always said this - I'm not somebody that needs to hit you bang on the chin to hurt you, I can hit you anywhere and hurt you.
"I hit him on the top of the head and he kind of bounced back like a cartoon character, I'd say like Sideshow Bob, but he just sprung back with shock. It was at that moment in time that I knew I got his respect and he knew he was in for a fight in that very first exchange and from there on in it was just about executing the game plan."
Haye injured his Achilles during the sixth round but 'Bomber' was still wary of his opponent's punching power.
"One thing that was going through my mind is that he has the power to end you with one punch at any time and you cannot switch off for a second."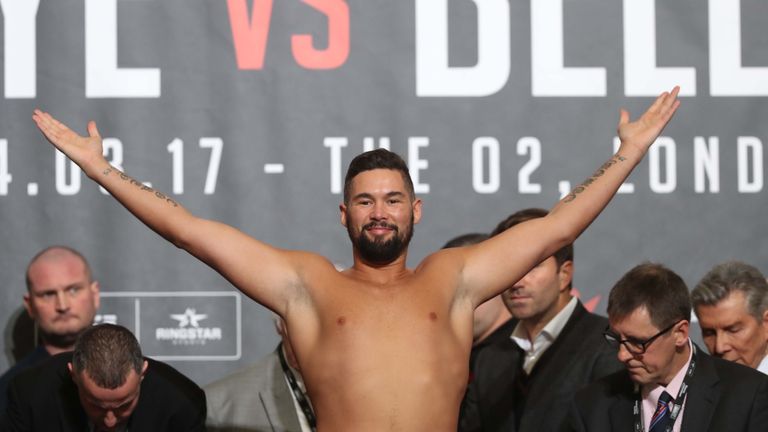 The 34-year-old moved up from cruiserweight to tackle Haye, who during the weigh-in claimed the Merseysider looked as if he had "eaten a bunch of pies".
"I'll be honest I came in too heavy, I shouldn't have come in at the weight that I did, everybody knows I enjoy my food and it was one too many Nandos for me I think it was," added Bellew.
"So I did come in a bit heavy, heavier that predicted and in the eighth round I was really, really blowing, it was a tactical fight for the first four or five rounds. I had to make him miss and pay.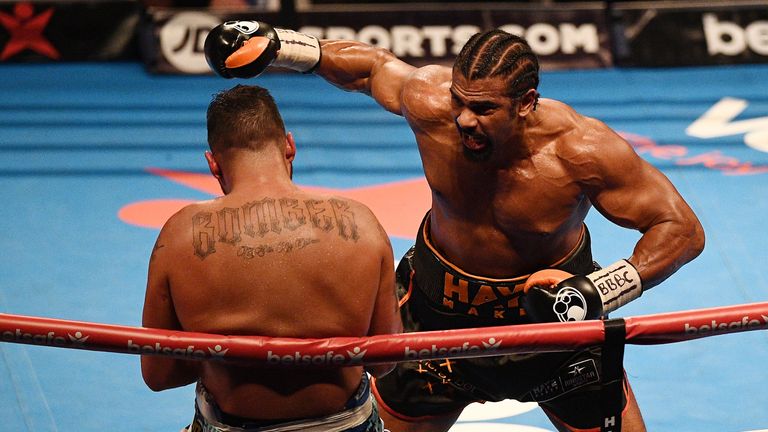 "And it's the tactical fights that drain you, not the wars because you are throwing punches and you're not thinking about what's coming, so when you don't have to think about what's coming it's natural, but I had to think about making him missing, slipping, shoulder rolling, hitting his body.
"By the end of the eighth round, I'll be totally honest I was completely spent and I was waiting and praying for that second wind to kick in."