Joshua vs Parker: Anthony Joshua warns Joseph Parker that no human can stop him
By Richard Damerell
Last Updated: 17/01/18 1:38pm
Anthony Joshua warned Joseph Parker that it will take "more than a human" to defeat him ahead of their world heavyweight title unification clash.
The WBA 'super' and IBF title holder responded to claims by WBO king Parker and his promoter David Higgins at the first press conference for their fight at the Principality Stadium in Cardiff on March 31, live on Sky Sports Box Office.
Higgins has questioned Joshua's chin, pointing to past knockdowns that had been suffered by the unbeaten 28-year-old, but AJ quickly referred to each occasion and ruled out a knockout win for Parker.
"When you talk about myself getting dropped and what you done, it's a marketability strategy," said Joshua. "When you want to talk about facts - the three times that I have been hurt or dropped was in the European Championships when McCracken knows I was actually banned from the GB team, because I was still getting in trouble.
"I stopped boxing and two weeks before that European Championship, I was called up to the country. I was very unfit, I didn't get dropped, I got stopped. When your tank is empty, it's hard to perform.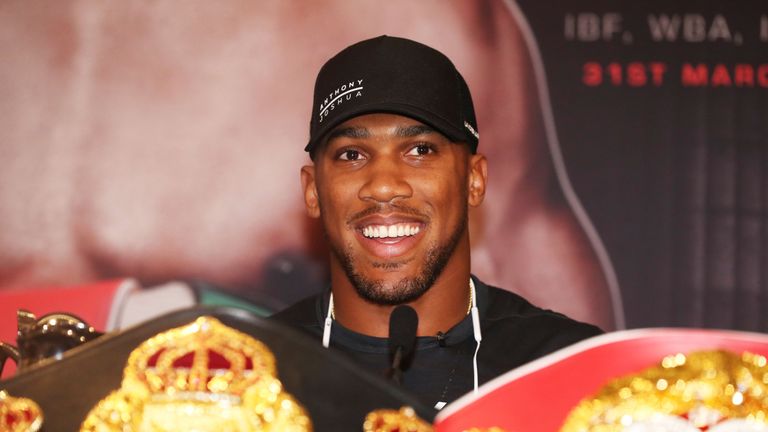 All those times it told me, it will take more than a human to stop me from where I'm destined to be, and that's what I learnt.
Anthony Joshua
"The second time was David Price. I had come out of a police cell the day I went up to training. I'm not going to use it as an excuse, but David Price is a puncher, and lack of experience.
"With Klitschko, all those times it told me, it will take more than a human to stop me from where I'm destined to be, and that's what I learnt.
"Not to walk with sight, because when you're fatigued you don't know where you are. I walk with faith in this journey.
"In terms of using it as a PR stunt. The rumours that you have heard, they're fake news. Hand on my heart. PR, whatever you want to use it for, is between you and your camp."
Parker insisted he and his team are standing by their previous opinions about Joshua and remains confident he can expose vulnerabilities in the home favourite.
"This is probably going to be the hardest camp in terms of training the hardest, putting in the most work because I have a big challenge in front of me, Joshua," he said.
"Joshua, I've watched him for a long time. I know he's watched me. I know his strengths, I know that he knows mine. I know his weaknesses and he thinks he knows my weaknesses.
"I cannot wait to have this fight happen on March 31. Cannot wait to train, cannot wait to be back, to put on a great performance, hopefully catch him on the chin and knock him out."