Chris Eubank Jr claims James DeGale threw him out of gym after brutal spar
By Isaac Robinson
Last Updated: 09/06/16 11:07pm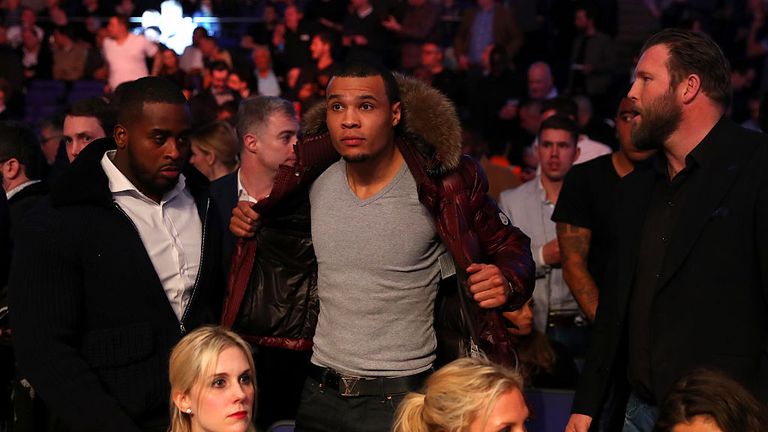 Chris Eubank Jr claims world champion James DeGale threw him out of his gym after losing a sparring session.
Eubank Jr (22-1-KO17) returns to Sky Sports Box Office screens on June 25 when he defends his British middleweight title against the unbeaten Tom Doran at The O2 on the undercard of Anthony Joshua v Dominic Breazeale.
Speaking just over two weeks ahead of that fight, Eubank Jr was in characteristically frank mood when asked about his history with current IBF world super-middleweight champion DeGale.
The Brighton fighter said: "The story is that I was invited to his gym a few years back to spar with him. I went in there and schooled him, beat him up. He wasn't happy about it - he was embarrassed and upset.
"After the sparring session, he basically tried to kick me out of his gym. Because of how disrespectful he was towards me and my father at his gym, I decided to let people know what had gone down in sparring that day.
"Usually, what happens in the gym stays in the gym and I never talk about what goes on in my sparring sessions but because of the way he acted, I decided to let everybody know. Since then, we've always clashed.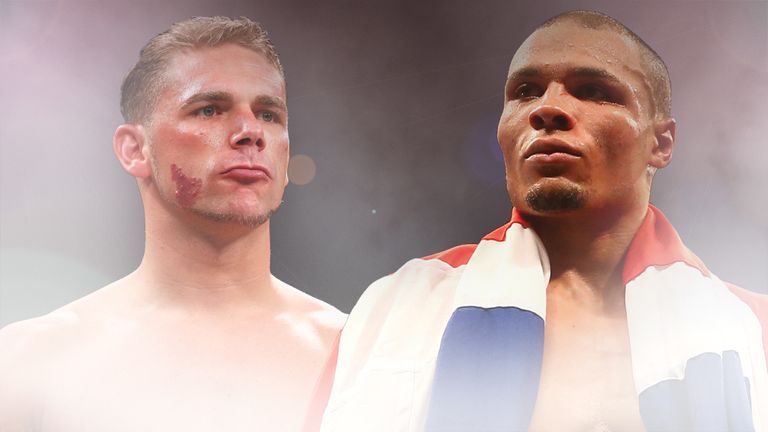 All I can hope is that he's man enough to get in the ring and give the public what they want, which is a rematch with me.
Eubank Jr on Saunders
"It would be a great grudge match and definitely something I would look towards when I move up. At some point, it's going to be hard for me to make middleweight and he's super-middleweight champion so it's definitely a great opportunity for me."
There were also some choice words for the only man to beat Eubank Jr in a professional ring - WBO world middleweight champion Billy Joe Saunders, who has spoken recently of his desire to take on the division's marquee champion, Gennady Golovkin.
But Eubank Jr - himself chasing a showdown with 'GGG' - said: "He is not chasing Golovkin. He doesn't want to fight Golovkin. He doesn't even want to fight me. He wants easy money so he's picking and choosing and ducking. He's saying things but not backing anything up.
"All I can hope is that he's man enough to get in the ring and give the public what they want, which is a rematch with me."
First, Eubank Jr must concentrate on the challenge of Doran, who extended his unbroken run of victories to 17 with a second-round stoppage of Luke Keeler in April, having been floored in the first round.
"It's a great platform," he said. "It's a privilege to box at The O2 in front of all those people on such a packed bill. It's going to be a great night of boxing.
"The performances I'm putting in at the venue is getting a lot of people talking. It's a great place to fight. It's a great atmosphere and around 20,000 can fit in there. There's nothing like it.
"He's undefeated and doesn't know how to lose so it's always interesting to fight against a man like that. They want to do everything in their power to keep that undefeated record. I expect fireworks and to go to war.
"It has the potential to be one of my toughest. In his previous performances, he showed heart and punching power. I'm definitely not taking him for granted.
"There's no bad blood. It's new for me. I'm used to guys really going at me and saying some choice words about me before fights. He's done none of that and it's refreshing."
Watch Eubank Jr v Doran as part of Anthony Joshua vs Dominic Breazeale, live on Sky Sports Box Office from The O2 on June 25. Order the event online now.