Pellegrini's to-do list
New Manchester City manager Manuel Pellegrini has plenty to mull over after finally being unveiled in the hotseat at the Etihad Stadium. Here, Sky Sports pick over what will be on the Chilean's agenda in his first few weeks in charge
By Tim Oscroft (tweet me @TimOscroft)
Last Updated: 14/06/13 4:39pm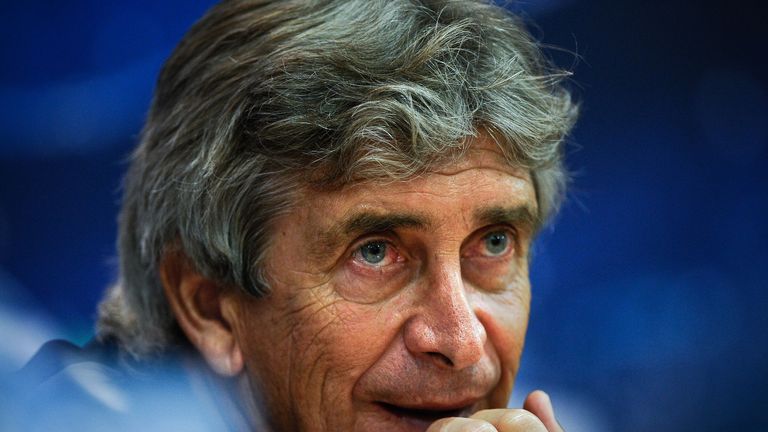 Following the arrival of Manuel Pellegrini at Manchester City, Sky Sports takes a look at the issues which need to be addressed at the Etihad Stadium. Roberto Mancini's man-management skills were thought to be slightly strained and so there are plenty of bridges to build. Pellegrini also needs to address who he wants to be in his squad along with embracing City's desire for a 'holistic' approach. Can he prove a success? Time will tell.
Resolve contract issues one way or the other
Carlos Tevez, Gareth Barry and Joleon Lescott all have a year left on their contracts, so will Pellegrini make them part of his plans by offering them new deals, recoup some money for the club now or let them wind down and leave for free next year? Tevez's difficult relationship with Mancini was mostly put to one side last season, with the Argentine chipping in with 16 goals in all competitions. Some big European names are said to be circling Tevez, but his on-field efforts have endeared him to City fans in his four years at the club - to sell him early in his tenure would be a big call for Pellegrini.
Building bridges I - the club
The rumoured rifts between Mancini and the City squad appeared to have become embarrassingly public for the club by the time of that chastening defeat by Wigan Athletic in the FA Cup final. No manager needs to be best friends with his players, but Pellegrini will want to build some bridges early on. City chairman Khaldoon Al Mubarak stated Mancini's successor needed to be "someone with great man-management capability", so Pellegrini's capacity in this will be tested from the outset.
The club's use of the word "holistic" in their statement announcing Mancini's dismissal also indicates the owners will want Pellegrini to engage with all aspects of the club's operations to help win more silverware. Mancini was said to be aloof with playing and non-playing staff - outside of his own circle - alike, and while the owners could not have foreseen how the Italian's methods would pan out, they will be looking for their second selection as manager to bring a feel-good factor back.
Decide what to do with Sinclair and Rodwell
Scott Sinclair and Jack Rodwell did not feature anywhere near as much as they would have liked in their first seasons with City, for different reasons, and Pellegrini's arrival poses interesting questions. Rodwell's season was ruined by injury, and Mancini seemed keen to use him when he could but the recent arrival of Fernandinho, almost on the new manager's watch, seems to put the young England international down the pecking order.
Sinclair was deemed surplus to requirements for most of the season, making most of his 15 appearances from the bench and, with Jesus Navas now on the books, where the ex-Swansea City player fits in is debatable. Of course, Pellegrini may well like to have both of these young English around to add strength in depth, and how he uses them will be fascinating to see.
Take an interest in developing young players
Pellegrini will have to take an interest in his new employers' youth system, something his predecessor singularly failed to do. With one eye on the implications of Financial Fair Play, the club are investing heavily in a new training facility, next door to the Etihad Stadium, where eventually their young players will be housed along with the senior squad. Mancini reportedly never visited the current Academy facility at Platt Lane, and young, home-grown players from within the club's ranks had negligible impact in the first team during his time in charge.
Returning to the holistic theme, the owners will demand that Pellegrini takes a considered look at all the resources on offer to him at City. But at the same time, City are still going to be a big noise in the transfer market, with the ability to bring in players for big fees almost at will. With the stakes so high, Pellegrini will surely only pick players that he thinks are good enough, regardless of where they came from.
"Hope you like our new direction"
City's director of football Txiki Begiristain is said to favour the use of 4-3-3 at all levels of the club, from all the youth teams to senior side, and if this is the case then Pellegrini has to either get his current squad moulded to that formation, or tweak it until it fits. Mancini's occasional use of 3-5-2 met with limited success, to say the least, so will the current City roster measure up to further experimentation? City looked surprisingly tentative last season, considering the players at their disposal, and Pellegrini also needs to restore some attacking verve.
Building bridges II - the fans
Bringing success back to Manchester City after so long made Mancini a hero in the eyes of many Blues fans, and Pellegrini will have to hit the ground running when it comes to winning them over. Man United's romp to the Premier League title, and Jose Mourinho's return to Chelsea have upped the ante so Pellegrini's City side - in whatever configuration - must start the season well.
Identify a guaranteed source of goals
In light of Robin Van Persie's success at United, Pellegrini could do with a striker who will bring in at least 20 goals in the league. Napoli's Edinson Cavani, AC Milan's Stephan El Shaarawy and Borussia Dortmund's Robert Lewandowski are among a plethora of strikers linked with City's desire to make up for missing out on RVP last summer.
How much input Pellegrini has into reshaping his squad will be a sub-plot well worth sticking with. After being sacked by Real Madrid in 2010, the Chilean complained that "It's no good having an orchestra with the 10 best guitarists if I don't have a pianist," following his lack of influence over who came and went at the Bernabeu. Fernandinho and Navas were already on board before Pellegrini came through the door, and it looks - so far - like the new man is getting who he wants.
Europe - must do better
Making City into annual diners at Europe's top table was always the next phase of the project mapped out by their owners, but the Blues' two UEFA Champions League campaigns ended far too early for their liking. Even though they will not be involved in that competition until late September, European progress will be the elephant in the room as Pellegrini starts work in mid-June.
Qualification for the knockout phase this season is a must, and trying to achieve that will play a big part in the new manager's thinking. Knocking United off their perch is also on the agenda, and losing the FA Cup final to a side who were relegated three days later was a significant blow to the club's prestige. Pellegrini 's two immediate predecessors were ruthlessly despatched - Mark Hughes in mid-season, Mancini a year after winning the league - so he will know how high the bar has been set from day one.