Premier League: Brad Guzan says players can handle the Aston Villa boo boys
Brad Guzan is adamant the players are "man enough" to handle the boo boys as Aston Villa battle to beat the drop.
Last Updated: 11/02/14 11:11am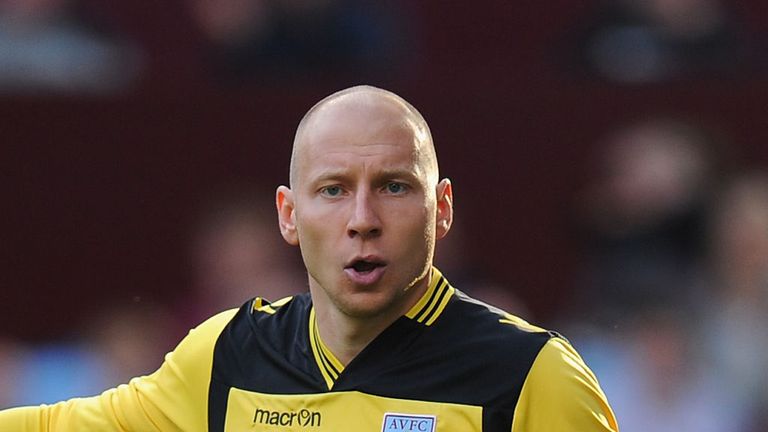 Villa's horrendous home form this season again returned to haunt them on Saturday as they suffered a woeful 2-0 loss to relegation rivals West Ham.
Come the final whistle, the jeers that greeted Villa's eighth home Premier League loss - equalling the worst in the top flight this term - were long and loud.
It means manager Paul Lambert's side are now just four points above the relegation zone ahead of another crucial clash on Tuesday, when they travel to Cardiff who are currently one off the bottom.
Guzan said: "Nobody likes to be booed but they have a right to express their displeasure when things are not going our way, just as they express their gratitude when we put in a good performance.
"Nobody wants to lose, and whether you are home or away, fans are going to express their displeasure - rightfully so.
"It comes with the territory of being a professional footballer, so you take it on the chin and you get on with it.
"If there's going to be a bad reaction, we're man enough, big enough to take it. We're in this thing together.
"You have to continue to fight and play football, regardless of the surroundings and what is going on around you.
"The game doesn't stop in the 50th minute because you made a bad pass or this or that. You get on with it.
"We're confident in each other's ability, and more importantly, we're confident as a team."
Guzan feels the trip to south Wales offers Villa an immediate chance to banish the memory of such a miserable display against West Ham.
"It's an opportunity to get their fans on their back a little but, and put in a performance we can be proud of and get three points," added Guzan.
"We all want Aston Villa Football Club to do well, and the fans have been fantastic towards us in terms of helping us push forward.
"They've been behind us since day one of last season when there were a few changes going on at the club.
"We want to do our best to reward them with good performances, good play, and ultimately good results."