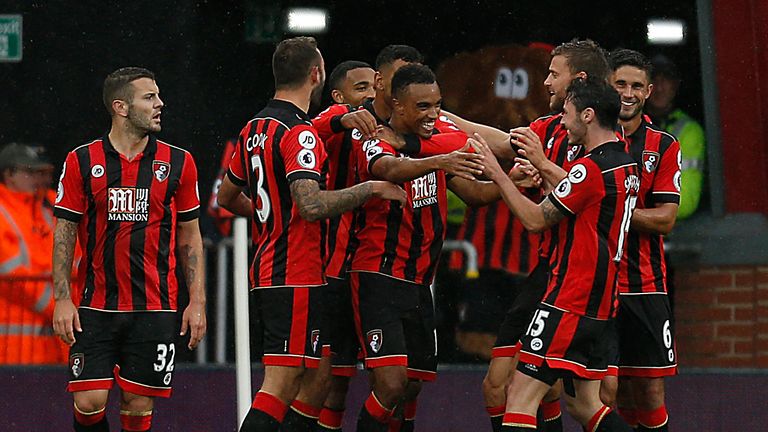 Find out which teams impressed in week eight of the Premier League, which saw Bournemouth hit Hull City for six, while Liverpool's much-anticipated clash with Manchester United ended in a goalless draw.
The time has come to see whether your club impressed, as domestic action returned after the international break.
We've asked Sky Sports pundit Ray Wilkins to give each side a grade, based purely on their performance at the weekend.
So, how did your club fare? Do they get a stunning A+, a woeful Z, or something in between? Read on to find out...
Chelsea - A
Chelsea absolutely dismantled Leicester, the first 30 - 35 minutes, they were absolutely superb. They did their job, got it done, and so I will give them an A for that display.
Leicester City - C
Leicester, on the other hand, have lost four away at Liverpool, they lost big at Manchester United, so this is going to be a tough season for Leicester in the Premier League, so I will give them a C for not using Jamie Vardy like they should be.
Bournemouth - A+
Bournemouth had a fantastic victory at home. It is going to be tough for them away from home this season I think, but Eddie Howe has bought a lot of young players who have brought energy and vitally to the side, while the signing of Jack Wilshere was a real coup for him. And to score six goals in the Premier League, against anybody, is fantastic, so I will give them an A+.
Hull City - Z
Unfortunately you would have to give Hull a Z. It was a terrible performance, and when you have got your own players like Curtis Davies coming out and saying: 'We lacked passion and fight for the game', then you have got a slight problem. I think Mike Phelan is a super guy and a super coach and I sincerely hope he can turn it around, but they might need to delve into the coffers come January.
Stoke City - A
An A for Stoke's performance. It has been difficult for them, but the signing of Joe Allen in midfield has been a real coup for Mark Hughes. He is a very, very good footballer and now he is starting to add goals to his game. I think they have been a bit unfortunate, they lost a couple of penalties early on with the new rulings coming in and no one else seems to have been punished for that but Stoke unfortunately.
Sunderland - E
Sunderland unfortunately still can't win. Poor old Jermain Defoe must be pulling out what hair he has left as he is not going to get too many chances and once again it is going to be down to him to see if he can drag Sunderland back, so an E for them.
Arsenal - B+
Another good display from Arsenal, who got the job done in the first half thanks to Theo Walcott's two goals, and then manged to see the game out after going down to 10 men. They are in really good form at the moment.
Swansea City - B
I think Bob Bradley will not be too downhearted by his side's display at the Emirates, which is always a tough place to go and get a result, especially for a team fighting relegation. And on another day, they may have even have snatched a point.
Manchester City - C
City are having a super season, they are joint top of the Premier League, but unfortunately you cannot afford to miss two penalties, so I am going to give them a C.
Everton - B
Everton are doing well and they have probably one of the finest managers in world football at the moment in Ronald Koeman, who did a wonderful job at Southampton, and I am going to give them a B.
Liverpool - C
Going into the game, I think Liverpool will have been favourites to win it with their quick, attacking play, but to be perfectly honest Man Utd just strangled them to be perfectly honest, so I will give them a C. I think that [Loris] Karius may take some time to settle down.
Manchester United - B
I thought Jose Mourinho got his tactics spot on with the team that he picked. He had to leave Juan Mata out to quell the attacking force of Milner on one side and also Clyne on the other. So I thought that he got that bang on and I will give them a B.
Tottenham Hotspur - B
Tottenham had so many chances that really they could have won two games, so I am going to give them a B just for being a tad sloppy.
West Bromwich Albion - B
It is tough for West Brom. Goal scoring is very difficult for them, although the purchase of Nacer Chadli has been superb, so I will give them a B as well.
Southampton - A
A good side and another super win. They are playing some really, really good football. They have some great footballers, although a big test for them this coming weekend. But their performance on Sunday was absolutely outstanding, they dismantled Burnley with some really good attacking football, so I will give them an A.
Burnley - C
It is tough for Burnley as whenever you go away in the Premier League as a newly promoted team, then  you are going to have problems, which is what Burnley are now finding. But I am not going to be too harsh on them as it is difficult. They were in the game for a period, but once Southampton had gone in front, they were finished.
Middlesbrough - C
I will give Middlesbrough a C. Your home form has to be spot on if you are a newly promoted team. There are little targets that you set - can you nick three points here and there, and this would have been one where they would have been hoping, but it was not the case. It is a different kettle of fish in the Premier League.
Watford - B
What a fantastic victory this was for Watford. 'Boro is never, ever going to be easy to go away and get a result, Walter Mazzarri seems to have them playing in a good fashion, and they are scoring goals again. And this was another good victory for them, so I will give them a B to go away and win.
Crystal Palace - C
It was a difficult game for them. I do not think that conditions helped them much as there was absolutely torrential rain and they just did not get their game on at all, and Christian Benteke also missed a penalty kick wide of the left-hand side and so a C for Palace.
West Ham United - B
Nice to see West Ham get back to playing some football, Payet was very good, good to see Aaron Cresswell back playing and so I will give West Ham a B.
You can watch Premier League football, plus England's tour of Bangladesh and the US Grand Prix on Sky Sports. Upgrade now and enjoy six months at half price!