After Wayne Rooney rejoins Everton, which player would you bring back to your club?
Last Updated: 10/07/17 2:16pm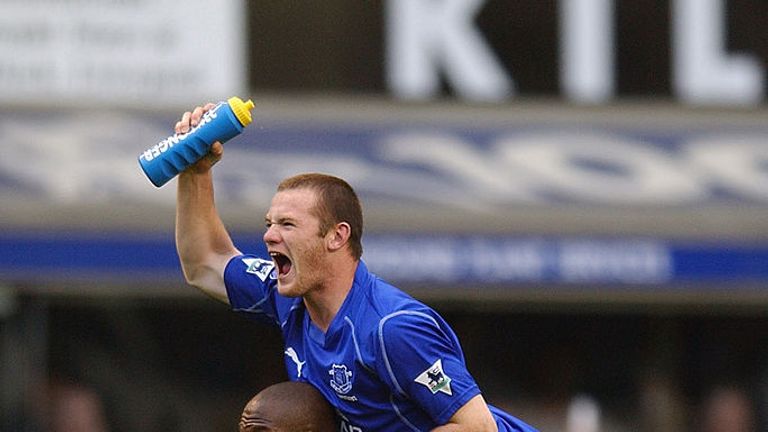 With Wayne Rooney returning to Everton - we asked football fans across the country: which former player would you bring back?
The 31-year-old has brought the curtain down on a glittering 13-year spell at Manchester United to return to the club he first joined at the age of nine. The move has sparked a mix of excitement and nostalgia among Everton fans as they are living the dream of having one of their former heroes back at the club.
So, we decided to put the question out to our three million followers @SkyFootball to see which players were missed most at their clubs.
Here, we have collated the best responses....
Manchester United
@Brian_Mzobe7: "Eric Cantona back at Man United - The man was pure class and a joy to watch"
@TheHaff11: "Nemanja Vidic to @ManUtd because we've missed a centre back for a long time who is completely dominant in the air and is also a great leader"
@OliverKeaney32: "#TransferCentre Angel Di Maria back to United because he is a great player and would work well with Jose."
@Will89Wk: "Hernandez back to @ManUtd. Real fox in the box. So underrated. Scored plenty of goals since leaving and getting regular football."
@etoclla_: "Nani back Unitedted. Electrifying on his day and such a joy to watch. Knew how to celebrate too! #TransferCentre"
Liverpool
Javier Mascherano back to Liverpool, a great tackler but could play too. The shield we need in front of our defence. #TransferCentre

— Michael Cole (@TheMickCole) July 10, 2017
@irwinlfc69: "Xabi Alonso back to liverpool he could still do a job in our midfield #LFC #TransferCentre"
@Pat7Alfred: "Easy for me. Steven Gerrard and Luis Suarez. What this duo will do in a Klopp team... #transfercentre"
@Callum_Shepp: "Liverpool, John Arne Riise, we really need a top quality left back and he is the man for that job."
@KyleTSpalding: "Gerrard, Alonso, Mascherano, Torres, Suarez, Kuyt, Carragher, Finnan, Riise, Agger, Hyypia, Reina. I miss them all. #LFC"
Arsenal
I'd bring back Patrick Vieira. His captaincy, and "no nonsense" bravado would set selfie happy players straight. #TransferCentre

— Ese Agboaye (@A96oaye) July 10, 2017
@Gooner_Bird_mrs: "Robert Pires. That guy's still got it."
@Kinneas_LoL: "David Dein to Arsenal. Not a player on the pitch but an absolute baller in the negotiation room. #TransferCentre"
@bigjbanger: "Bring back @ThierryHenry to @Arsenal guy could still put fear of god in to defenders #legend #TransferCentre"
Tottenham
@ThomasBertie: "Bale back to spurs, no reason needed #TransferCentre"
@Hdjh93: "Gylfi Sigurdsson #THFC he always was exactly what we needed"
@MattFord87: "Modric back to @SpursOfficial would be sublime, runs the game from the engine room & makes it look easy! #COYS #TransferCentre"
Chelsea
Kevin De Brunye back to chelsea because he's turned into a world class player since he left. Also Salah or Lukaku back to chelsea

— Sam Montgomery (@SamMont32095308) July 10, 2017
@killerforyourlove: "Robben back to Chelsea. He would be deadly in 3-4-3 on the right. #TransferCentre"
@Spacebug2058: "Ashley Cole back to @ChelseaFC . There's lots of strikers and midfielders, but fullbacks are rare. Cole in his prime was the best ever LB."
Man City
Man City. Boateng. He would form a destructive partnership with Kompany ... A solid defence backing up lots of goals up front

— Rodney Gutu (@sensei_gu2) July 10, 2017
@TorreddyGaga: "Tevez, Dzeko & Balotelli to Man City.. We would get our attacking power back with DeBruyne, Sané, Sterling & Silva behind! #TransferCentre"
Everton
@Alexrules195: "Definitely Tim Cahill back to Everton. No one beats him in the air! #TransferCentre"
Aston Villa
@shilvockj: "Albrighton to villa, villa fan and he should of never been released."
Crystal Palace
@FilthFromWilf: "Nathaniel Clyne, came from our youth and would link up well with Wilf."
Newcastle
@IslamChoudhury6: "Laurent Robert back at the Toon. Unpredictable and full of quality goals with that lethal left foot."
Blackburn
@GMchugh90: "Would love to have Tugay back at Blackburn Rovers, the wonder strikes and long range passing miss those days #TransferCentre"
Bolton
@Dan_C1990: "If he was still playing Jay-Jay Okocha back to Bolton. Brilliant player."