Gylfi Sigurdsson not in Swansea squad to face Southampton, says Paul Clement
By James Dale
Last Updated: 10/08/17 3:14pm
Gylfi Sigurdsson is not in Swansea's squad to face Southampton, Paul Clement has confirmed, as talks over a move to Everton continue.
Talks between Everton and Swansea over a deal to take Sigurdsson to Goodison Park have hit a deadlock, according to Sky sources, but a deal could still happen.
Clement, who is preparing his side for their first game of the Premier League campaign against Southampton on Saturday, insists no deal has been agreed as of yet but hinted both parties are looking for a speedy resolution.
"No deal been has been done with any club," Clement said. "Talks are ongoing and I'm speaking to our chairman and owners every day for an update but there isn't a current conclusion to it at the moment.
"What's going on is not abnormal; you get a lot of situations like this.
"The situation is our club has a valuation of the player, the other club has another valuation of the player and the two have not met. The objective is that at some point the clubs will meet (in valuation)."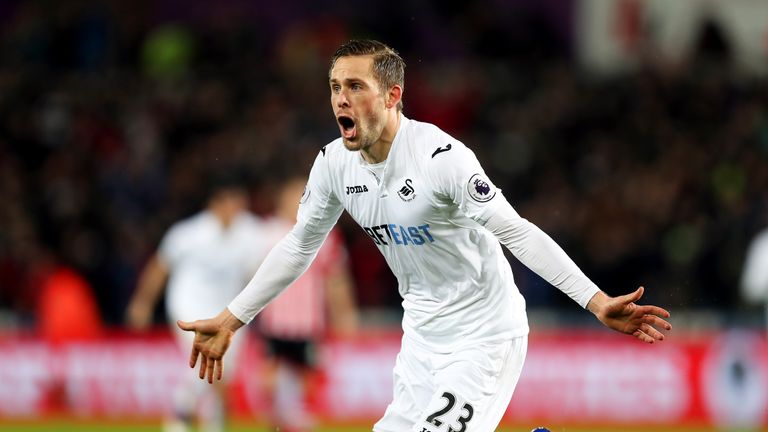 Clement added: "At the moment no (he will not play this Saturday). I think it's in the best interest with everyone involved that's not the case, and in my plans that's the situation that Gylfi will not be involved in the squad this weekend.
"We've got a number of weeks to go and I don't anticipate it going to the end of the window. Of course I would like the situation resolved as soon as possible, I've said that quite clearly."
Despite leaving Sigurdsson out of the squad to face Saints this weekend, Clement was adamant he had no issue with the midfielder's application at the club.
"I like working with him," Clement added. "He's a really good person and player. Every day he comes out and gives his best in training and that hasn't changed during this period and I don't see it changing - he's that kind of boy."
Clement steered Swansea away from relegation last season after arriving in January and believes the club are in a stronger position heading into his first full campaign in charge.
"I think so because we haven't seen many outs and we've got good additions to the group," he said. "We'd still like to do a couple of things [in the transfer market], but we have until the end of August to do that."