Harry defends Lennon
Spurs boss Harry Redknapp insists that Aaron Lennon has not been made a scapegoat.
By Graeme Bailey - Follow me on Twitter @graemebailey
Last Updated: 07/04/11 1:22pm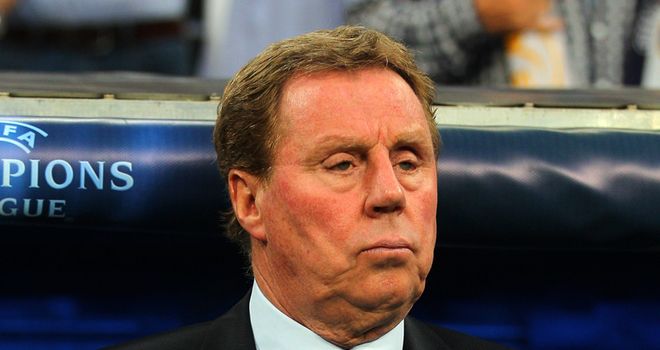 Spurs boss Harry Redknapp insists that Aaron Lennon has not been made a scapegoat after he pulled out of their match with Real Madrid.
Lennon had been named in the starting line-up, but the England winger was forced to withdraw from the game as he was suffering from a virus.
Since then Lennon has reacted to criticism from some quarters by insinuating he was being made a 'scapegoat'.
But Redknapp insists this is not the case, saying: "No one is blaming Aaron for not playing. He's been fantastic for us. I've got no problems with the kid whatsoever.
"I was sitting in the dressing room before the match, looking at his face. He's normally chirpy before he goes out and I looked and he didn't look well.
Wasn't well
"I had to make a decision. It wasn't Aaron's fault. He didn't bottle anything. The kid wasn't well. No one's made him a scapegoat.
"Aaron hadn't been feeling well during the day. The doctor came to me and said 'look, he is on antibiotics, I think he will be OK'.
"I had to make a decision. He was key to everything we wanted to do, him and Gareth Bale were really where we were looking to cause problems to Real Madrid.
"He's been fantastic for me since I've been at the club and I was desperate for him to play but do I take the chance of sending the kid out when he doesn't feel he's got any strength or energy to go and play in a game like that.
"So I said, 'look I know how much you want to play but you can't take the chance here if you don't feel you can go out and do yourself justice' and that was it."
Meal
Redknapp's side lost 4-0 in the Spanish capital and their chances of success were severely hampered by Peter Crouch's early dismissal.
Redknapp was disappointed by Crouch's indiscipline, but he also criticised Real Madrid's players as he felt they tried to get him sent off.
"They made a meal of it. They made sure they got him sent off," Redknapp told
talkSPORT.
"When it happened they were all after the referee and overacting and the player was rolling around.
"Crouchy made a mistake and no one could feel more sorry than he does.
"He's been great for me over the years. He's made a mistake. These things can happen."