Redknapp shrugs off job talk
Harry Redknapp has insisted he is giving no thought to the possibility of taking a different job.
Last Updated: 09/04/11 11:03am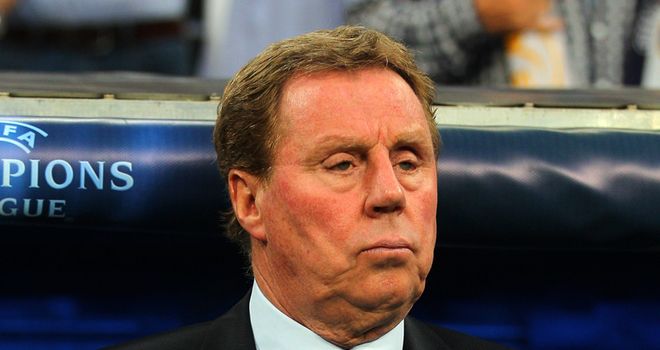 Harry Redknapp has insisted he is giving no thought to the possibility of taking a different job as he is enjoying his work with Tottenham.
Redknapp experienced one of his most high-profile matches in a long managerial career when he took Spurs to the Bernabeu in midweek to play Real Madrid.
The night ended in disappointing fashion as a 4-0 defeat ensured that, barring a miraculous comeback in the second leg, Tottenham's UEFA Champions League run would come to an end at the quarter-final stage.
With Spurs facing a fight to qualify for next season's competition, the occasion could have given Redknapp a taste of what it might be like to manage one of Europe's giants.
He has also been heavily linked with the England role, with Fabio Capello set to stand down next summer after Euro 2012.
However, Redknapp maintains that he is happy at White Hart Lane and focused solely on leading the club to a successful future.
"All I think about is managing Tottenham," he said.
"I have a job here. I don't go home and think: 'This job is going to come up or that job going to come up."
"I'm just happy with what I am doing here, it's been great here this season. We have been in the Champions League and I have loved it.
"It's been an amazing experience and I want more of that on a regular basis if we can do it here."
Crouch defence
Peter Crouch's early dismissal in the Bernabeu left Spurs with a mountain to climb and the striker has been criticised for his two reckless challenges.
Redknapp believes the abuse has gone too far and has defended Crouch, backing him to recover from the disappointment.
"What has he done? He hasn't murdered someone, has he?" the Spurs boss said.
"He's made a mistake, the kid, but what can he do? He's done it, we have to move on."
"Crouchy is fine. He will get over it. He has to.
"It's done now. It'll take him a while to get over it but he can't walk around and want to hang himself, or something.
"He won't have any problems picking himself up. He is a good pro and a good lad.
"People have to realise his goals took us here in the first place and it was totally out of character."