Vieira salutes Mancini
Patrick Vieira believes Man City's achievements should silence any speculation over Roberto Mancini.
Last Updated: 13/05/11 11:54am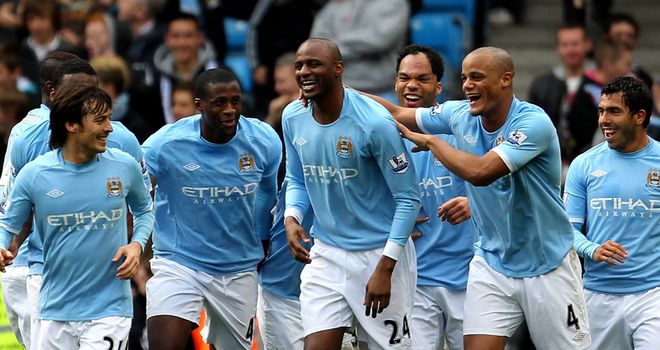 Patrick Vieira believes Manchester City's achievements this season should silence any speculation over the future of manager Roberto Mancini.
The Eastlands outfit secured a place in the UEFA Champions League next term with victory over Tottenham on Tuesday night and are currently preparing for Saturday's FA Cup final with Stoke City.
Victory over the Potters at Wembley would end the club's 35-year wait for major silverware but Mancini has still had to endure suggestions he could be shown the door by the club's ambitious owners.
However, veteran midfielder Vieira feels City's success this term fully vindicates the Italian, who he has backed to introduce a more expansive style of play in future amid continued criticism of a cautious approach.
Vieira told The Times: "I don't know what they asked from him upstairs, but we have the Champions League, an FA Cup final and clear improvement.
"I don't think the manager's future can even be an issue. All we can ask is to improve year on year and we are one step higher.
"You can see that. The results are proof."
Foundations
The former Arsenal, Juventus and Inter Milan man added: "The manager was a flair player. And I believe in the next few years he'll want the team to play more like that.
"Be patient. Build like a house, they say. The foundations, the defence, the organisation. Then you can add more.
"There are young players and they need to grow together. We have changed so many players and you need time to build trust and understanding."
Vieira's own future remains in the balance with his current contract due to expire in the summer and no talks planned until after Saturday's cup final.
The France World Cup-winner admits his playing career is winding down and could be ready to hang up his boots, with a move into management a possibility.
He said: "It would be a pleasure to stay but if they think it's time for me to stop, I'll accept it. I'm ready in my head to stop."
With regards to management, he added: "A few years ago I would have said no, but now maybe. A team reflects a manager's personality."