Bruce patient in striker hunt
Steve Bruce has admitted his bid to bolster Sunderland's attacking options may take some time.
Last Updated: 12/05/11 4:32pm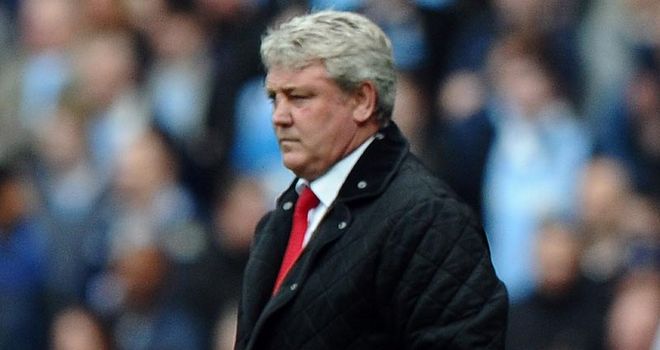 Steve Bruce has admitted his bid to bolster Sunderland's attacking options may take some time.
The Black Cats' hopes of securing a top-10 Premier League finish this season have been severely dented by Darren Bent's unexpected departure for Aston Villa in January and the injuries which have hit Asamoah Gyan, Danny Welbeck and Fraizer Campbell.
With Welbeck only on loan at the Stadium of Light from Manchester United and Bruce not expecting Sir Alex Ferguson to allow him to leave, and Campbell expected to miss most of next season with another knee problem, there is little doubt where the manager's main focus will be as he attempts to strengthen his squad this summer.
However, he knows he will not be the only top-flight boss hunting for frontmen - derby rivals Newcastle, for example, are looking for a replacement for Andy Carroll, who made a £35million switch to Liverpool a fortnight after Bent's defection.
In the circumstances, Bruce believes he may have to wait for the merry-go-round to spring into action before he can make his move.
He said: "We are doing our job and looking at what is available and what's not available, but there is nobody, really, not yet.
"I don't think teams have made their minds up yet, especially the big ones - and it is usually the big ones who cause the knock-on effect, if they are going to change their strikers, for example.
"We will see what develops."
Meyer to visit specialist
While recruitment plans will account for much of the club's work during the close-season, Bruce and his medical staff will also try to get to the bottom of the plague of injuries which has decimated the squad this season.
Sheer bad luck has played its part in that catalogue, but the number of serious knee problems in particular has prompted the Black Cats to analyse every facet of their training regime in an effort to identify any contributory factors.
Bruce said: "I have had a meeting with our medical people, and there are only nine people in the squad who have completed more than 60 per cent of the games, which is a horrible statistic.
"It has been one of those horrible years. We could say, 'We are doing this wrong', 'Is the pitch is wrong?', 'Is training wrong?', 'Is this wrong?'."
Midfielder David Meyler is among those to have been struck down this season, having not made a senior appearance since January after suffering a setback on his return from a cruciate ligament injury.
Sunderland have now decided to send the midfielder to America to visit the specialist who helped Chelsea's Michael Essien to recover from his own injury, while Campbell will follow him when he reaches a similar stage in his fight for fitness.
Bruce told the Sunderland Echo: "We are sending Meyler to Vermont to see a specialist to get him looked at.
"When the time is right in his rehabilitation, we will send Fraizer over there as well.
"There's a new specialist who has set up a rehabilitation centre over there specifically for knee injuries.
"They will do everything they can to get David right without having surgery. Essien and a couple of the Chelsea lads have been there, so hopefully it will sort the problem out."