Bowyer mulling over future
Lee Bowyer will weigh up his options after revealing he will be offered a new contract by Birmingham.
Last Updated: 13/05/11 5:18pm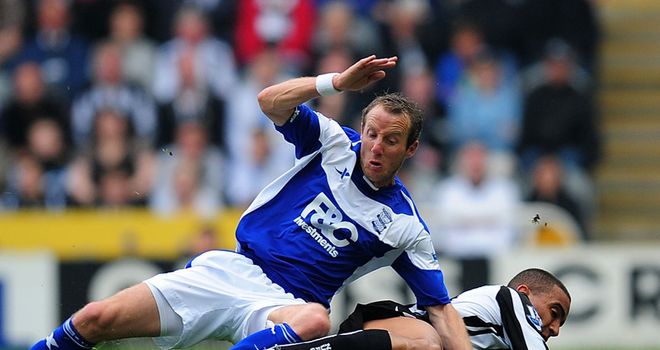 Lee Bowyer has confirmed he will weigh up his options in the summer after revealing he will be offered a new contract by Birmingham City.
The 34-year-old will be a free agent at the end of the season and is wanted as part of Alex McLeish's plans next term.
However, the former Leeds and Newcastle midfielder wants to assess what other offers may be on the table before committing his future to Birmingham.
Bowyer said: "I'm not sure what I'm going to do. I'm going to weigh up the options in the summer.
"At the moment the manager has said to me the club are going to be offering me another year.
"Whether that happens or not, I don't know. They were meant to give me another year last summer.
"I'll be on a free now and I'll see what options I get and go from there. I've not had a bad season so I might have a couple (of years left)."
Happy
Bowyer is happy at St Andrews but is keen to play on a regular basis after scoring four goals in 28 Premier League appearances this season.
He said: "I like playing football. I don't come to work to sit on the bench. The games I do miss, I don't like.
"I had a spell here this season when I wasn't playing and I wasn't happy. But I think for one reason or another since Christmas time, the manager has put me back in and been playing me.
"I'll have to weigh things up. No-one is guaranteed to play but obviously I want to play as much as I can.
"I still feel that I give a lot to the team. That is the most important thing, that the team do well and I want to be part of that.
"There is no reason for me to go. It just depends. I can't sit here and say I'm going to stay here because I don't know what options I'm going to have. But am I happy here? Yes."