Warner linked to travel payments
Jack Warner is still registered with the travel company that organised flights and accommodation for officials.
Last Updated: 06/06/11 9:13pm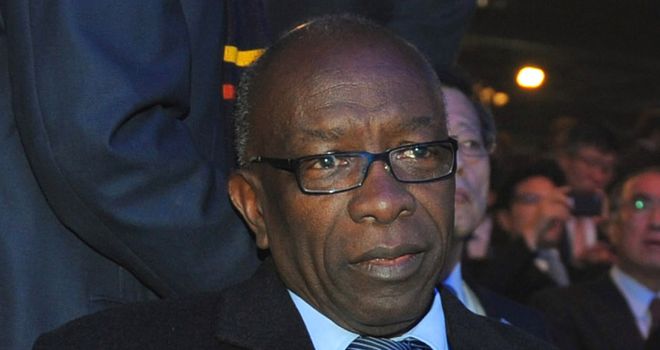 Suspended Fifa vice-president Jack Warner is still registered as a director of the travel company that organised flights and accommodation for 50 officials to a meeting where it is alleged bribes were paid.
Warner has been banned from all football-related activities pending a hearing into claims he and fellow Fifa member Mohamed Bin Hammam paid bribes to Caribbean officials totalling $1million.
As previously revealed, according to an affidavit sent to Fifa's ethics committee all the transport and accommodation to the meeting in Trinidad, which was paid for by Bin Hammam, was arranged by Simpaul Travel.
It was known that Warner founded the company, but stepped down as a director in 2006. According to accounts seen by the Trinidad Newsday newspaper, he and his family returned as directors in August 2009.
Bin Hammam has said in a statement to Fifa that he paid $360,000 to cover the travel and hotel expenses. Delegates were warned before the meeting by Warner that if they arranged their own travel and accommodation there could be no guarantee it would be refunded.
In a television interview last week, however, Warner said the amount transferred was $100,000 less.
Money
"Mr Bin Hammam never gave any money to the countries of the Caribbean," he said.
"Bin Hammam wired $260,000 to pay for accommodation, air fares, this is the norm."
It was during the meeting on 10th and 11th May that it is alleged bribes of $40,000 dollars were paid to each of the 25 Caribbean associations by Bin Hammam, who was then campaigning to be Fifa president. He and Warner both deny any wrongdoing.
A report to Fifa's ethics committee by American lawyer John Collins named Sonia Bien-Aime, the secretary general of the Turks and Caicos Islands Football Association, as having confirmed Simpaul organised the travel and accommodation.
The report states: "Ms Bien-Aime stated that the airline ticket she received to attend the meeting had been sent by Simpaul Travel in Trinidad."
Simpaul Travel was investigated by Fifa after it was revealed that 2006 World Cup tickets were channelled through the company.