Murphy - League's top priority
Danny Murphy admits the league is Fulham's main concern despite a winning start to their European campaign.
Last Updated: 01/07/11 2:20pm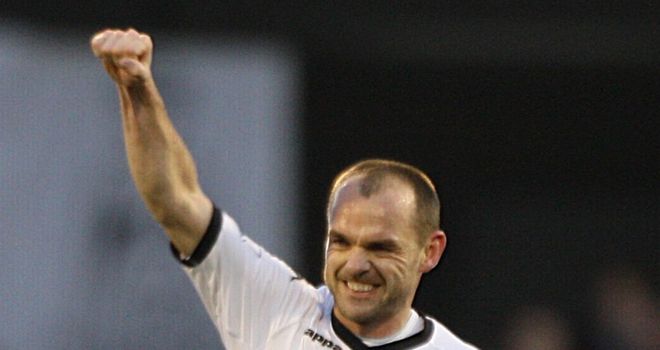 Danny Murphy admits the Premier League is Fulham's main concern despite making a winning start to their Europa League campaign.
The Cottagers' captain scored from the penalty spot in a 3-0 home win over Faroese minnows NSI Runavik in Martin Jol's first game in charge.
Fulham have seemingly already secured a place in the second qualifying round clash, but a further 22 matches remain if the Cottagers are to repeat their heroics of 2010, when Roy Hodgson led them all the way to the final.
Thursday night's game also marked the start of an 11-month season for Jol's side, which some fear could see them struggle to survive in the Premier League.
But Murphy believes there will be no problems provided Fulham remember that maintaining their top-flight status is the club's top priority.
"I think last time we did it - if I remember correctly - we put ourselves in quite a safe position (in the league) quite early on," he said.
Relegation battle
"We were never ever in any trouble and I think the problems come if you are trying to fight a relegation battle.
"Or like last season where there were 10 teams, up until probably the last month of the season, fighting week-in, week-out.
"If you're trying to play European games as well then it could be problematic but let's hope we're not in that position."
Jol is yet to add to the squad he inherited from Mark Hughes and Murphy is wary of being left short of options during what promises to be an arduous campaign.
"The squad is as healthy as it has been in a long time in terms of quality," he added. "We are lacking a few numbers - that's true - but they know that upstairs and they will be addressing it.
"But we've got to be careful not to get too focused on the Europa even though that is the focus at the moment, if you know what I mean?
"The Premier League is your bread and butter and the last thing you want to be doing is losing silly games and points because you're trying to progress in this competition.
"It is a fine balance but the manager gets paid big bucks for (making decisions like this)."