Vidic hungry for success
Nemanja Vidic wants to retain the Premier League title and reach the Champions League final once again.
Last Updated: 17/07/11 9:48am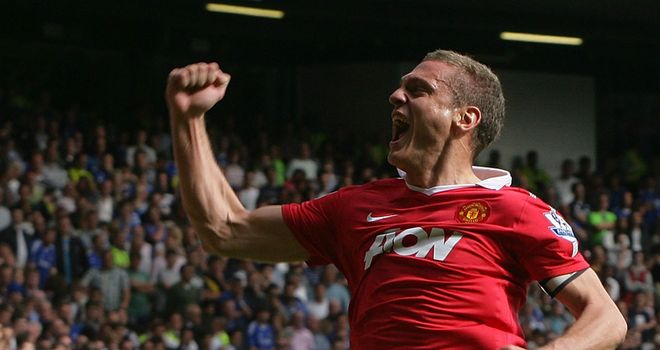 Manchester United skipper Nemanja Vidic has revealed his determination to retain the Premier League title and reach the UEFA Champions League final once again.
The Red Devils' 2010/11 campaign may have ended on a disappointing note with defeat to Barcelona in the European showpiece at Wembley, but they dominated on the domestic front to overhaul Liverpool as England's most successful club.
But having won the league for a record 19th time, Sir Alex Ferguson and his men have no intention of resting on their laurels.
"Yes, of course the manager has spoken to us about what lies ahead and whether we have the desire to stay at the top," Vidic said in The People.
"He has already asked us if we have the hunger to go again this season.
"But if you play for Manchester United you have to have that hunger inside you - it is part of being a Manchester United player. No one is allowed to stay still and think about what we won last time - last season is gone.
"This is a new season and a new challenge. If you don't have that mentality then it will be hard for you at a club like United, where there are so many winners.
"Even before we played New England Revolution in Boston last week, the manager was focused on winning the game. He said, 'We have to show we are Manchester United and win the game'.
"This was our first pre-season friendly of the summer against a team who are in the middle of their season but he was only thinking about us playing well and winning."
Competition
The likes of Chelsea and Manchester City will be desperate to topple United when the new season kicks off and Vidic knows his team must make a strong start, with a number of tough games in the first couple of months.
"We have no time to ease our way into the season - we have to hit the ground running," he said.
"We play all our main rivals in the opening weeks of the season, so we cannot afford to start slowly like last year when Chelsea quickly got in front and left us behind.
"That can't happen this time and we know that. There is a long way to go this season and it will be a difficult year for us and maybe the toughest Premier League there has ever been because the competition is increasing.
"Other teams, like City and Liverpool, have spent a lot of money already and bought players to make a challenge to us.
"But I don't think we should be too worried about the other teams and what they are doing. We should only focus on ourselves.
"Yes, it will be tough but we have a good team and we can win it again."
Building
As well as trying to stay ahead of their rivals in the Premier League, United will hope to go one step further in Europe by winning the Champions League.
Ferguson has already strengthened his squad with the signings of David de Gea, Phil Jones and Ashley Young, and Vidic is pleased that United are looking to the future.
He added: "We are going to work hard to build a team and try and reach the Champions League final again.
"So maybe now we shouldn't speak any more about it and just focus on the new games -they are the future, Barcelona is in the past, and we can't do anything about that game now.
"All the squad is glad to see new players - it's always good to see young players who are hungry.
"I'm sure they can only help to make Manchester United stronger for the new season."