Smalling expects more chances
Chris Smalling has been told by Sir Alex Ferguson that he will get plenty of opportunities this season.
Last Updated: 08/08/11 5:25pm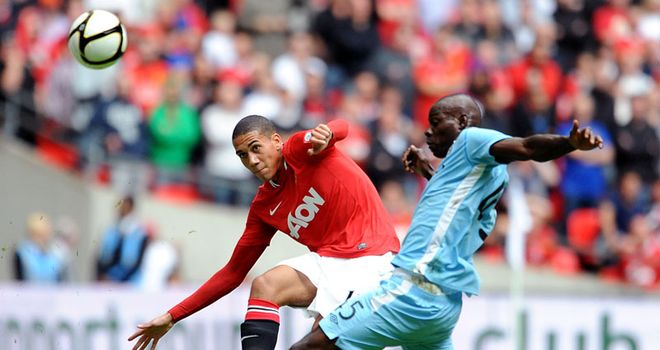 Chris Smalling has been told by Sir Alex Ferguson that Manchester United's young players will get plenty of opportunities this season.
A youthful-looking United gave an early indication of their potential with a thrilling 3-2 victory over Manchester City in the Community Shield at Wembley on Sunday.
Defender Smalling, 21, new goalkeeper David de Gea, 20, and 20-year-old striker Danny Welbeck, who is back from a loan spell at Sunderland, all started.
New signing Phil Jones, 19, and 21-year-old Tom Cleverley, who spent last season with Wigan, also featured in the second half.
Ferguson is renowned for his ability to continually renew his side and he now looks to be bringing in a new generation following the recent retirements of Gary Neville, Paul Scholes and Edwin van der Sar.
Smalling, who scored the goal which sparked United's winning comeback from 2-0 down, expects his manager to keep putting faith in the youngsters.
He said: "The manager said the young players will get a chance this season.
"At half-time in a big game like this you could see the young players step up. Hopefully that can carry on all season.
"I think we could go from strength to strength.
"Quite a few people feel like they have got a fresh start. They have been out on loan and are making a big step.
"The manager has given them a chance in pre-season. You can see these players are good enough and hopefully they will get more chances."
De Gea support
De Gea endured a difficult debut in goal, failing to come for the free-kick which Joleon Lescott glanced in before being beaten from distance by a low Edin Dzeko shot.
But Smalling has backed his team-mate to grow from the experience, saying: "He'll learn from things like that and he made some good saves early in the second half.
"So it's good to see that he's not going to be down and out about it.
"He got up and made some really good saves."
Jones reaction
Jones, another of United's recent arrivals after a £16million move from Blackburn, already feels at home with the champions and is looking forward to the start of the Premier League at West Brom on Sunday.
"I have settled in well, the lads have made me feel welcome and I am enjoying it," said Jones.
"It was a good workout before the start of the season next week.
"Hopefully the lads will come back from international duty fresh and we can kick off the season in style.
"We are looking forward to it and hopefully we can get three points."