Cook quiet on Nasri
Man City chief executive Garry Cook wants to respect the fact that Samir Nasri remains an Arsenal player.
Last Updated: 16/08/11 8:46am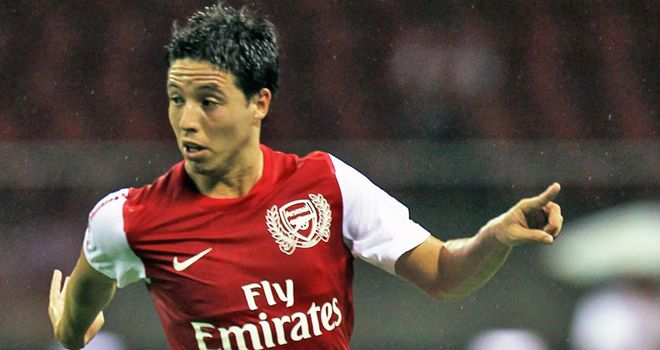 Manchester City chief executive Garry Cook when asked on Monday night wanted to respect the fact that Samir Nasri remains an Arsenal player.
The 24-year-old midfielder has been linked with a £25million move to City and he could be set to follow Cesc Fabregas out of the Emirates after the Spaniard joined Barcelona on Monday lunchtime.
France international Nasri has yet to sign a new deal with the Gunners and so could leave on a free transfer next summer.
The transfer window closes at the end of August and Cook would not add to the speculation, although neither did he deny the deal could materialise.
He said: "We always try not to disclose anything - obviously he's still an Arsenal player and we need to respect that.
Notion
"So unfortunately I will refrain from giving an update on that."
As well as Nasri, the future of Carlos Tevez has been the subject of speculation, with the Argentina international linked with a move away from the Etihad Stadium for months.
In July, a proposed £40m move to Brazilian side Corinthians failed to materialise and the player has been mentioned as a target of Inter Milan for some time.
However, Cook claimed there had been no contact with the Italian club and believes Tevez will still be with City next month playing alongside summer signing Sergio Aguero.
Cook said: "He is still a Manchester City player and to see him playing alongside Aguero is going to be pretty exciting for all the City fans."
Winner
On whether Tevez will be at City in September, Cook added: "I've not spoken to anybody about anything that will dispel that notion."
Cook admits UEFA Champions League football is essential given the amount of investment in the North West club.
On the club's hopes for the coming season, Cook added: "(Manager) Roberto (Mancini) will be entering four competitions this year for the first time in many years and I have no doubt he will be trying to win every single one of them.
"Everyone has got an opinion of what we should try and achieve and what we should try and do.
"All I do know is that Roberto is a winner and last year he said he's going to win the title and this year he'll say the very same thing.
"We set out two-and-a-half, three years ago that it was about building a successful, sustainable football club for the future.
"To do that you've got to be playing Champions League football and to be playing alongside the very best in Europe."