Jelavic reveals ambitions
Rangers striker Nikica Jelavic has revealed ambitions of playing in England but gave reassurances of his SPL commitment.
By Matthew Skinns
Last Updated: 07/10/11 5:42pm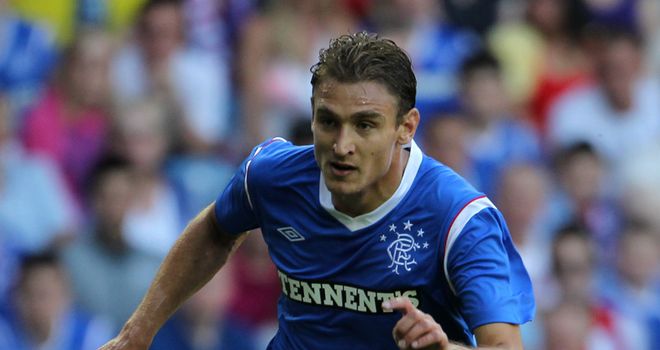 Rangers' Nikica Jelavic has revealed ambitions to play in England but insists he is committed to the Scottish champions.
The Gers retained the striker's services after Leicester City's £6.5million summer bid and reported interest from Turkish side Fenerbahce.
The striker believes Rangers will secure the Scottish Premier League title for the fourth consecutive year, admitting silverware was the reason he stayed at Ibrox.
The Croatian star moved to reassure fans but confessed his future plans are outside of the SPL.
"In all honesty, I am very happy here," the 26-year-old told Rangers Monthly.
"While there was a good offer from Leicester, that is not a club I want to move on to if I am to leave.
"Fenerbahce's proposal was really interesting but I wanted to stay at Rangers because we have a very good chance of winning the title again this season.
"At the moment, I'm really not thinking about any new clubs. I enjoy it in Glasgow, my family are happy here too and I still have three years left on my contract.
"For me, the best league in Europe is in England and I would like to play there one day, although Spain and Germany are also very attractive.
"It is natural that I should want to play in the best competitions, and it would be nice to do that at some point, but I'm really not thinking about any of that at the moment.
Jelavic is confident Rangers can lift the SPL trophy again following their 4-2 victory over Celtic in the first Old Firm derby of the season.
"Between us and Celtic, I think we are the better team and we showed that in our game with them last month. We just destroyed them.
"We showed good team spirit and we let everyone see we are a team which can go on to win the title again because we were better than Celtic.
"Our squad is bigger and stronger than it was last season.
"We are in front at the moment and that is good but the competition is long and we must keep things going. I feel we will do that."
Jelavic has netted six goals so far this campaign having scored 19 times last season despite a four-month injury setback.
Meanwhile, Rangers midfielder Matt McKay has won the accolade of Australian PFA player of the year award for 2011.