Warnock rubbishes Taarabt talk
Neil Warnock claims he will be taking reports suggesting Adel Taarabt is still pushing for a move away from QPR with 'a pinch of salt'.
Last Updated: 13/10/11 4:11pm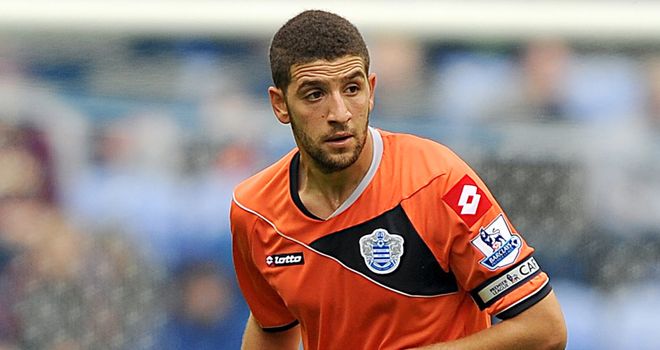 Neil Warnock claims he will be taking reports suggesting Adel Taarabt is still pushing for a move away from Queens Park Rangers with 'a pinch of salt'.
Quotes attributed to the highly-rated playmaker during the international break suggested he was looking to secure a switch elsewhere for financial reasons.
The comments surfaced while Taarabt was away with the Moroccan national side.
He has since returned to Loftus Road and Warnock insists he has been given no indication that the 22-year-old is unhappy.
"He's not said anything to me," he told Sky Sports News HD.
"I do take it with a pinch of salt when you go abroad. It's only six weeks with Adel, I think, that he said he was never going to play for his country again and he scores a goal and kisses the coach - that's Adel. You have to take everything with a pinch of salt."
Numerous clubs were reported to be chasing Taarabt's signature over the summer, with Paris St Germain leading the chase, and Warnock insists he will not stand in the way of any player if they want to move on
Message
"My message is the same with every player at the club, not just with Adel," he said. "If a player wants to leave, he can leave. I've never had a problem with that.
"All the talk about the offers that we had, I never saw an allegedly massive offer from PSG. I know what that they offered. By the time we played Tottenham I think we would have been left with peanuts.
"If he wants to get the move that allegedly he has talked about, the best way of doing that is playing well."
Warnock admits Taarabt can be a handful at times, but claims his fiery Moroccan character that makes him the player he is.
"It's just a matter of getting the right balance," he said.
"I couldn't have more than one of them like Adel. I think Adel's enough for me at my age."
Spotlight
While admitting words with Taarabt were needed, Warnock rejected the notion that he was contradicting himself by protecting the midfielder after recent criticism of Manchester City's Carlos Tevez.
"I think that is between me and him now," he said. "I am going to speak to him today and that's how it goes.
"I think if you have ever sat in Fulham's dressing room and you are 3-0 down at half-time, I don't think I'd want to stay there if I am honest.
"He has just got to realise that when you are in the spotlight like we all are you have to think a little bit further than the instant reaction.
"I wouldn't put Adel in the same [category] as Tevez, although I think he wishes he is on his money."