VDV - Spurs better than Arsenal
Rafael van der Vaart insists Tottenham are still the number one team in north London despite Arsenal thrashing Chelsea on Saturday.
Last Updated: 01/11/11 8:09am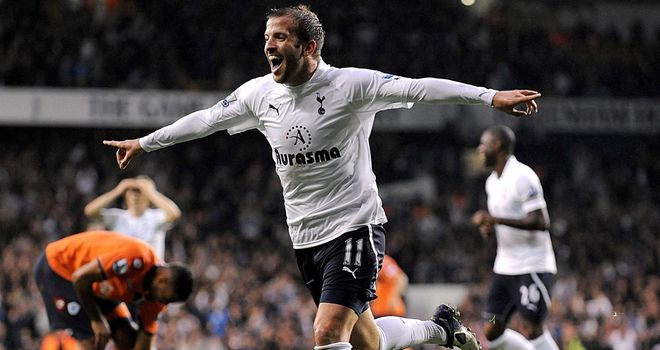 Rafael van der Vaart insists Tottenham Hotspur are still the number one team in north London despite Arsenal thrashing Chelsea on Saturday.
Arsenal's stunning 5-3 win at Stamford Bridge on Saturday moved the Gunners to within three points of the Premier League's top four.
The victory was their eighth in nine matches - with the only blemish on that record a 2-1 defeat a White Hart Lane in which Van der Vaart scored.
The Dutchman scored again in Sunday's 3-1 win over QPR, extending Spurs' unbeaten run to seven matches and equalling a club record of scoring in five consecutive Premier League games.
And Van der Vaart said: "We are better than Arsenal.
"In our last seven games we have won six and drawn once. It's a long season, but I think we have a bigger and better squad."
Force
Chelsea and Arsenal have dominated the London scene for the last two decades, but under Harry Redknapp Spurs have become a force.
They were battling relegation when he took over, but last year reached the UEFA Champions League quarter-finals and look set to challenge for qualification to Europe's top club competition again this term.
Sunday's win moved Spurs level on points with Chelsea, who have lost two of their last three matches.
Van der Vaart's confidence in Spurs' strength in depth is such that he thinks the club could challenge the Blues and even Manchester United for second place come the end of the season.
He added: "Are we the best team in London? Maybe, but it's still early. We're in a good way. We are much better than we were last season.
"Man City are the best team in the league and below them you have a lot of good teams and we are one of them."
City have impressed the Dutch forward this season with their performances against Manchester United, winning 6-1 and thrashing Spurs 5-1 in August.
Egos
He thinks, however, that their title challenge could collapse at any moment due to the big egos in the City dressing room.
"At the moment they are really good. They are winning games easily and how they played against Man United was impressive, but they also have the difficulty of a lot of egos so that could also be a problem.
"When you play for a big team, when you buy a lot of good players and a lot of players also aren't happy.
"Look at (Emmanuel) Adebayor. He is a great player for us, but he was not even in the squad at City and was training with the youngsters."
Despite his goal-scoring prowess Van der Vaart has been forced to play out of position on the right wing as cover for Aaron Lennon.
Rumours of a rift between player and manager surfaced when he publically voiced concerns about his role in the side.
But the Holland international played down such talk, adding: "Playing behind the striker is my favourite position but when the coach needs me on the right side I can play there as well.
"I played there against Arsenal and did well so it's not a problem but I'm not a player that has to chase a left-back."