De Bruyne targets Blues
Genk's Kevin De Bruyne has insisted being linked with a move to Chelsea will not stop him trying to pile more misery on Andre Villas-Boas' men
Last Updated: 31/10/11 5:16pm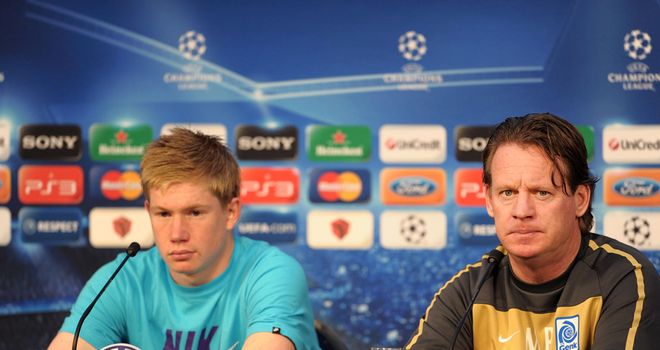 Genk star Kevin De Bruyne has insisted being linked with a move to Chelsea will not stop him trying to pile more misery on Andre Villas-Boas' men in Tuesday's UEFA Champions League clash.
The Blues have been linked with the 20-year-old after scouting him on several occasions, but his latest audition fell flat when the Belgian champions were thumped 5-0 at Stamford Bridge two weeks ago.
Despite that setback, De Bruyne goes into this game full of confidence following his first professional hat-trick in Genk's comeback against Club Brugge on Saturday.
Mario Been's men were 4-2 down but ran out 5-4 winners, with De Bruyne netting both the equaliser and the winner.
The same day Chelsea were on the wrong end of a 5-3 home defeat to Arsenal and De Bruyne has vowed to give everything to inflict what would be an even greater humiliation on their opponents.
De Bruyne said: "I will think about only doing my best for Genk. My 'relationship' with Chelsea is not important. Nothing is signed yet, we will see.
Confidence
"We gained a lot of confidence in the Bruges game and I scored three times. But we won as a team and we have to take on Chelsea as a team.
"What have we got to lose? Playing against this type of world-class team is a players dream."
Genk's win at Brugge was their second in three matches following four straight defeats.
Manager Been said: "We take with us the excellent feeling of our victory over Bruges last Saturday. That is very important.
"Of course, we play against a club that can easily line up three different teams, all of them with Europe's top players. But we will take on the game differently to the first leg.
"We showed way too much respect for our opponents. We played backward instead of forward. At home in front of a capacity crowd we will have our chances, I'm sure.
"The only thing we have to do is cash in on at least one of them. And we do have the quality to do that."