Drogba hails AVB strength
Didier Drogba says everyone at Chelsea is pulling together and does not believe Andre Villas-Boas will buckle under the pressure.
Last Updated: 05/12/11 8:40am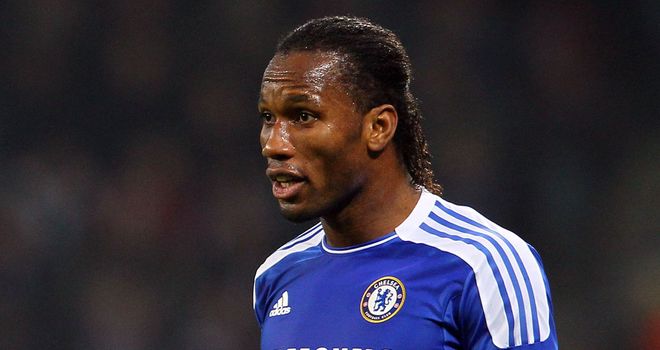 Didier Drogba says everyone at Chelsea is pulling together and does not believe Andre Villas-Boas will buckle under the pressure ahead of Tuesday's game against Valencia.
Villas-Boas has come in for criticism in recent weeks as the Blues have struggled for consistency, losing ground in the Premier League title race and failing to impress in the UEFA Champions League.
However, Drogba can understand the difficulties Villas-Boas has faced in his first season as a manager in English football after switching from Porto over the summer.
The Portuguese tactician arrived at Stamford Bridge with a reputation as one of the best young coaches in the business, and Drogba believes he will be successful with Chelsea as the whole squad is behind him.
"Everything is now coming together for the manager," said the striker.
"You have to remember it is his first season in the Premier League, so it's not easy for him - and it isn't easy for the players or the club.
"Yes, we have been in a difficult moment - we have been struggling.
"But you have to stick together and make sure when we are on the pitch, we are all pulling in the same direction. That's what we are doing right now and it's great to see. We will have bad moments but if we stay together, the good things will come along.
"The manager can deal with any pressure. You don't rise to his level in coaching if you are not a strong personality."
Vital
The immediate priority for Chelsea is to seal a place in the last 16 of the Champions League, which they can achieve by either beating Valencia in midweek or getting a goalless draw.
Drogba understands the significance of the match but is confident of getting the required result after a morale-boosting 3-0 victory over Newcastle on Saturday.
"You could say we looked more like the Chelsea of old," he said. "It was so important to win and I think that we are getting back to doing the simple things.
"Maybe we didn't play that well but the three points were vital for us.
"We managed to overpower them at the end but that comes with the pressure we were putting them under.
"We go into the Valencia game confident but it's this type of game that you just love as a player.
Attack
"Yes, the pressure is on us, we normally don't have too many problems in the group stages but this is why people love football. Nothing is ever set in stone.
"At the start of the season it was not guaranteed we would get through the groups easily.
"It's going to be tough, certainly a different situation to what we are used to.
"But in a way it will be just like some of the huge Champions League games we have had in recent years.
"I like that type of intensity. Everyone is concentrating 200 per cent and I love it. It's the emotion on the pitch, everything.
"We have had this sort of challenge before - and I am ready to attack it."