Wenger has City status concern
Arsenal manager Arsene Wenger fears for the future of clubs competing against financially flush Manchester City.
By Hayley Paterson
Last Updated: 17/12/11 12:05pm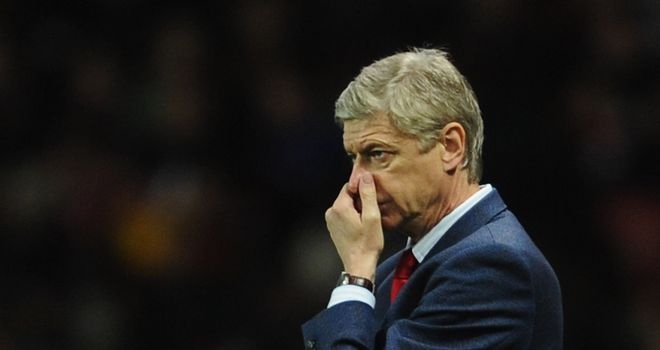 Arsene Wenger fears for the future of teams such as Arsenal when competing against the likes of financially flush Manchester City.
The Gunners face Roberto Mancini's men on Sunday in the Premier League - a fixture which could see midfielder Samir Nasri line-up against his former club again following his bitter summer exit.
That surprise departure, along with Gael Clichy who is suspended for the weekend clash, led to some critics claiming 24-year-old Nasri only left for the money having spent just three years at the Emirates.
"The financial difference between us and teams like City has become too big for us to keep the players for eight, nine, 10 years," Wenger told The Sun.
"We lost Thierry Henry, we lost Patrick Vieira. We lost other players before but they had played here for eight, nine years.
Blow
"But this is the first time we have lost players at an age where they start to produce, like Fabregas and Nasri, who were both 24 years old. That's the time you start to become a football player. It was a blow, to me and to the club.
"You need to be brave to put a player in at 18-years-old and you need to make room for them, which means you not only need to stand up for the players you put in, but you also have to kick somebody out.
"Yet at the end of the day, when you sell a player, you cannot complain after because at some stage you say 'Yes, we let him go' as it is a decision where you have to do the right thing for the club. But it is always painful to lose players at 23 or 24.
"Gervinho has come in and we could have played him with Nasri in the middle but we were lucky to find Mikel Arteta."
Wenger also missed out on City midfielder Yaya Toure, who reportedly agreed to join Arsenal and played in a pre-season friendly for the side before signing for Metalurg Donetsk in 2004.
"I've known him since he was 15. We had an agreement with him to come here but the problem was he was at Belgian side Beveren and we had to wait for a passport," said Wenger.
Impatient
"He was impatient and went to Metalurg in the Ukraine. In England, to get a player in, they need to have played 75 per cent of national games but Yaya never did.
"In Spain they do not have this rule. We decided to wait for the passport application and then when he was close to applying for it, he moved to the Ukraine.
"He is a top-class player, we knew that at the time."
On the clash at the Etihad, Wenger added: "This is the second big test away from home for us after the win at Chelsea.
"It's a massive test. We are ready for it physically and mentally. We are prepared and will give everything to win.
"City have had two recent disappointments but will want to respond against us.
"Defeats always take a bit of confidence away from you but let's not speculate on any weakness on City's part and make sure on our side we are at our best."