Allen eyes QPR revenge
Swansea City midfielder Joe Allen is gunning for revenge against Queens Park Rangers at the Liberty Stadium on Tuesday.
Last Updated: 26/12/11 9:24pm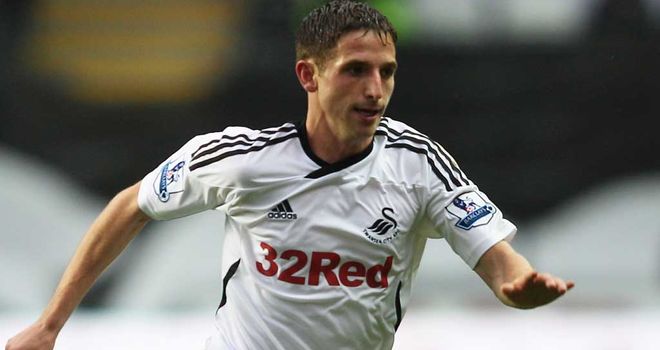 Swansea City midfielder Joe Allen is gunning for revenge against Queens Park Rangers when the two sides clash at the Liberty Stadium in the Premier League on Tuesday.
Both teams were chasing promotion from the Championship when they met at Loftus Road on Boxing Day last year, but it proved to be a miserable day for the Welsh club as they suffered a comprehensive 4-0 defeat.
However, Allen and his team-mates will now get the chance to make amends as they look to continue an excellent home record that has seen them defeated just once on their own turf.
Bitter feeling
"Last season that game was one of the few disappointments so we really want to put that right," said Allen.
"Games where promoted teams come up against each other tend to be exciting encounters and we want to come out on top.
"In football there are results and teams you remember and it was a bitter feeling on Boxing Day, it's not very often that we get drubbed like that, so we owe them one."
Wales international Allen has been one of the outstanding performers for manager Brendan Rodgers so far this term, but has echoed his boss' calls for the Swansea midfield to step up their game.
Stepping up
"I agree with him," said the 21-year-old. "We have felt like that out there on the pitch.
"It's difficult to put a finger on why that has happened but it's one of our big strengths and we make it difficult for ourselves if we don't control that, but we respect we are playing established Premier League sides and players who have cost a lot and get paid big money for what they do.
"But to put things in perspective, I am proud to say we are mixing it with the best. Against Everton, facing (Marouane) Fellaini was a tough task for myself and I came away a bit disappointed with that battle, but we have to move on and look to put things straight.
"QPR have a lot of high-profile players like Joey Barton, and while we are not focusing on individuals these are the players you want to test yourself against and we are looking forward to it," continued Allen.
"We want to bounce back after defeat at Everton. Our home form has been impressive and we feel we have a realistic chance of picking up the three points."