Snodgrass staying positive
Leeds United playmaker Robert Snodgrass is confident the club will shed their Christmas blues and return to form.
Last Updated: 29/12/11 12:27pm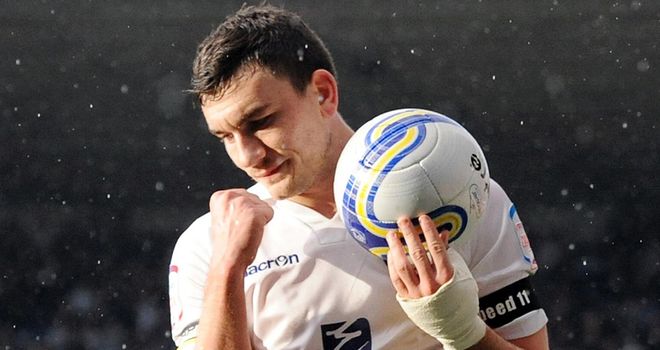 Leeds United playmaker Robert Snodgrass is confident the club will shed their Christmas blues and return to form.
Three games without a league win has seen the Whites slip out of the Championship's play-off places.
Leeds have suffered back-to-back 1-0 defeats to Reading and Derby ahead of their New Year's Eve clash against Barnsley.
Snodgrass knows it is a bad patch, but believes with hard work and determination things can turn around.
The Scotland international has conceded it has been a frustrating time for all and is of the firm belief the players realise that they have a realistic chance of achieving promotion.
Man's game
"Things don't get given to you," he told the Yorkshire Evening Post. "Football is a man's game and you have to stand up and be counted and I'm sure we will.
"You don't get anything easily in football. All the way growing up and being a professional, things can get harder as a season goes on and this is when you need to dig deep as a footballer and help your team-mates out when they are in trouble.
"When you look back at the end of the season and you have been promoted, you realise that it's a team game.
"It's sweeter when you realise you did everything you possibly could to get the team promoted. Every single bit counts; it's a squad game at the end of the day and I've said that so many times.
"Plenty of things happen in football and in this division. Life doesn't stop because Leeds United get beat; Leeds United will always go on with the tradition of the fans, it's the way they are, the fans are so passionate.
Frustration
"Yes, it's so frustrating at times with the way things plan out. But that's football, we need to bounce back and we've a derby at Barnsley next and we know what to expect there.
"I'm confident in every single game we play in because I believe in the squad and in the players, but sometimes we've got to have belief in ourselves.
"We've got backroom staff who believe in us and players who are technically gifted and hungry fighters and we need it to all come together, like it did at Nottingham Forest and against Hull at home.
"Every game is an incentive for us because we've got a chance of promotion and the quicker we realise it, the better. We need to get things out of our heads and think 'we've got a wonderful chance here'.
"It's up to us to put things right at the minute. I firmly believe it will change."