Savic keen to seize City chance
Stefan Savic insists he can fill the void left by suspended Vincent Kompany at Man City despite conceding a penalty against Liverpool.
Last Updated: 12/01/12 4:38pm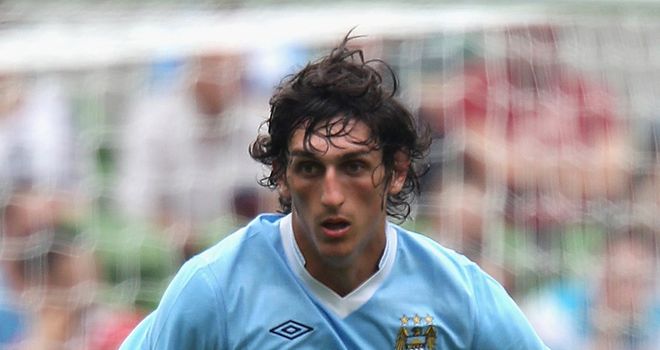 Stefan Savic is adamant he can fill the void left by suspended captain Vincent Kompany at Manchester City despite conceding the penalty that led to defeat at home to Liverpool on Wednesday.
With Kolo Toure away on African Cup of Nations duty with the Ivory Coast, Savic has been thrust into the limelight following Kompany's failure to overturn a four-match suspension.
It is a lot to ask of a player who only turned 21 this month and has started just one Premier League game since his £6million arrival from Partizan Belgrade in the summer.
The early signs were not encouraging as Savic struggled to cope with Andy Carroll in the first leg of City's Carling Cup semi-final, then caught Daniel Agger with a clumsy challenge that even Roberto Mancini accepted warranted the spot-kick from which Steven Gerrard won the game.
However, Savic did improve after the break, which City can only hope will continue. The Montenegro international will be required to play alongside Joleon Lescott at the DW Stadium on Monday when the Blues head to Wigan.
And, more importantly, Kompany will still be banned when Tottenham head to the Etihad Stadium on January 22nd looking to wipe out City's three-point lead at the top of the Premier League before completing his suspension by missing the return leg against Liverpool at Anfield three days later.
Determined
"When you are replacing someone like Vinny, everyone expects a lot from you," Savic told City's official website.
"He is our captain and our leader. But I think I can do it.
"The first half was difficult and the tackle for the penalty was a bad decision from me.
"But after that we came back into the match and had some chances and we still have a chance to go to the final."