Rosicky targets third place
Tomas Rosicky is determined to help Arsenal overhaul Tottenham in the Premier League after signing a new deal at the Emirates Stadium.
By Vasek Kadlec
Last Updated: 14/03/12 3:14pm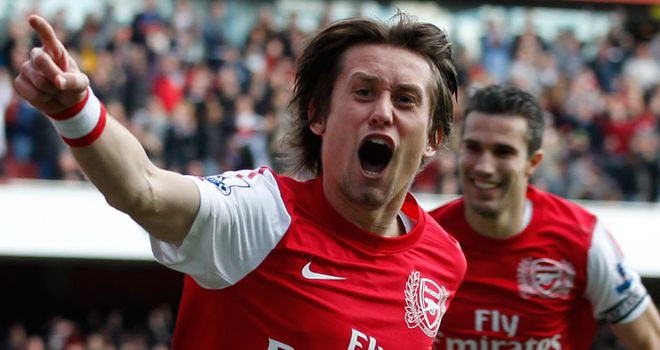 Tomas Rosicky knows that he will have to continue working hard to stay in the Arsenal side after signing a new deal at the Emirates Stadium this week, but he is determined to help the club finish third in the Premier League.
The Czech Republic international's contract had been set to expire in the summer but he has now committed his future to the Gunners and is excited about what might lie ahead for the club.
The immediate aim for Arsene Wenger's men is to secure UEFA Champions League qualification for next season, and Rosicky hopes they can overhaul North London rivals Tottenham to avoid an awkward play-off round.
Rosicky has been impressed with the fighting qualities Arsenal have displayed to set a Premier League record of winning from a losing position in four straight games, although he admits it is not ideal.
He told Pravo: "It's nerve-racking for us too. We will have to try to finally make some matches easier for ourselves by opening the score.
"Turning it around costs a lot of physical as well as mental energy. On the other hand, it shows how strong this young team is.
"We are a point behind third-placed Tottenham and three points ahead of Chelsea. Our aim is to finish third to book a direct place in the Champions League."
Fight
Having been a key figure in Arsenal's recent run of good form, Rosicky is very much enjoying his football at the moment after battling to come back from injuries for much of his time in London.
The 31-year-old is now looking to remain a regular in the side but recognises that it will be difficult as there is such fierce competition for places in midfield.
"Nothing has changed on my position at Arsenal. I have to fight for my place," he said.
"Arsenal means so much to me. I'm happy to continue at such a famous club. For how long it's going to be doesn't bother my mind at present. As long as my health is okay and I'm useful to the team."
Rosicky does not necessarily believe he has been out of form when he has played in the past, rather that he has been given more opportunities in recent weeks by Wenger.
He explained: "This is no 'Rosicky boom'. Three important factors have come together - I'm fit and play regularly and that means I'm also in good form.
"I don't think I was out of shape in the past. For instance, I played in two games in a row and I felt good about my performances but then the manager still kept me out next time.
"That's never pleasant. I need to play as regularly as possible, that's important for me. The way it has been recently it's ideal."
Preferred role
One factor in Rosicky's favour is that he is a versatile performer happy to play wherever he is asked, although he does prefer more of an attacking role.
"I've been playing in any position in the midfield line, including being a defensive midfielder in the match against Manchester United," he said.
"I always try to give my best wherever I play but the truth is it suits me best to be an attacking midfielder."