Little urges right choice
Andy Little has called for Rangers' administrators to make the right choice when selecting a potential new owner at Ibrox.
Last Updated: 22/04/12 5:22pm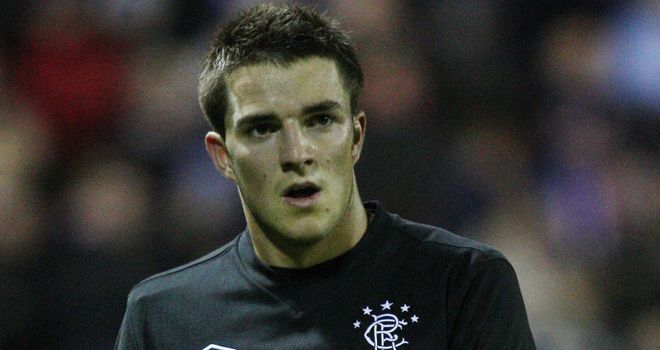 Andy Little has called for Rangers' administrators to make the right choice when selecting a potential new owner at Ibrox.
The striker hit a brace for the Glasgow giants in Saturday's comfortable 3-0 win over Hearts, but despite the three points all the talk after the game was about safeguarding the future of the club.
Former club director Paul Murray's Blue Knights and Sale Sharks owner Brian Kennedy have been in talks over rejoining the race to buy the club.
The Blue Knights took a step back from the process before indicating they could return to the table following talks with administrators and potential backers Ticketus, while Kennedy saw a second bid rejected by Duff and Phelps.
Meanwhile, American businessman Bill Miller is the other interested party, who said he would suspend his bid until Monday to allow other bidders to "put up or shut up."
And, speaking after the game at Tynecastle, Ally McCoist claimed Rangers were heading into a 'massive' period of 48 to 72 hours.
Little said: "I'm sure everybody is doing their best for the club. The gaffer follows it pretty well and he knows what's going on.
"I think he has said in the past, if it takes a bit longer to get the right man or the right people in charge, then that's fine.
"We don't want to rush into a decision. It's a big thing for the club and we want to make sure it's the right decision."
Winning
And Little insists the players 'don't do excuses' in terms of their own performances despite the off-field problems over the last couple of months.
Results initially appeared to be affected as Rangers slumped to three defeats in four matches, but they have now strung together a run of four consecutive victories in the SPL.
The Northern Irishman said: "We just want to play for everything in every single game.
"We have targeted the games after the split to give something back to the fans. They have been absolutely brilliant with us.
"When you are at Rangers, no matter what's happening, it's all about winning games.
"We don't really do excuses. We could use all the excuses under the sun with what's going on but we're not really interested in that.
"That's something that's drummed into you from a pretty young age here."
He added: "I don't think it's been a real problem, I think it's been going on for long enough now.
"It's not like we are waiting on tenterhooks. It's going on in the background and we are getting on with it.
"It's frustrating for any Rangers fan, player or anybody involved with the club.
"It would be more ideal if we could get it sorted out as soon as possible. But we can't affect it too much.
"I'm sure everybody at the top of the club is doing their best and working their hardest to get it sorted."