Schweinsteiger praise for Gomez
Bastian Schweinsteiger is not surprised Mario Gomez has carried his good form into Euro 2012 after a strong season with Bayern Munich.
Last Updated: 14/06/12 6:38pm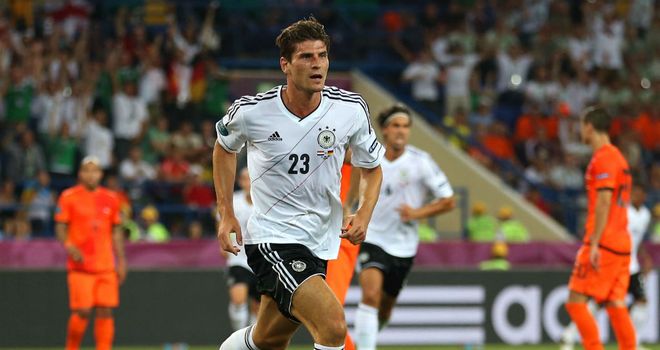 Bastian Schweinsteiger is not surprised Germany team-mate Mario Gomez has carried his good form into Euro 2012 after a strong season with Bayern Munich.
But the midfielder admits he was "shocked" by how well Germany's No.9 took his first goal against the Dutch on Wednesday night before adding a second and his third of the tournament.
Gomez's goals have given the Germans a perfect start to the Euros, with a 1-0 win over Portugal and Wednesday night's 2-1 victory over Holland putting them on the brink of qualification for the knockout stages.
Great season
Schweinsteiger, who plays alongside Gomez for both club and country, says he is not surprised by Gomez's form.
"Mario has played a great season for Bayern Munich and, as we saw against Portugal and Holland, he is very important for the team with his goals," said the midfielder.
"To be honest, we did not expect him to take the ball like that and score.
"I was a bit shocked to begin with. If he keeps doing that, we have to be careful he doesn't defect to Brazil.
"It's important for us that we have a striker who needs hardly any chance to score a goal.
"At the moment, we have the feeling that when we send the ball forwards, Mario is always there."
Germany's impressive displays have not been only about Gomez, though, and Schweinsteiger also praised the rest of his team-mates, even those who have not been involved much yet, for putting them just a point away from the last eight.
"I think we have not only a good bench but a very, very good bench," he said.
"There are other players in the squad, too - Miroslav Klose, for example, is also important for the team.
"I think other nations would be delighted to have two strikers like them."
Germany still have work to do, though, with the prospect of being eliminated from the competition despite winning their opening two matches still alive.
Not easy
Should Germany lose to Denmark in their final group game, Portugal could overtake them at the top of the group on goal difference if they beat Holland.
"It will not be easy against Denmark," added Schweinsteiger.
"They can qualify with a win so it is not going to be easy and they will be very defensive and that means we are going to have to be a bit patient."