Butland dreaming of debut
Jack Butland says it would be a special moment to make his first appearance for England on Wednesday but knows he still has a long way to go.
Last Updated: 13/08/12 2:22pm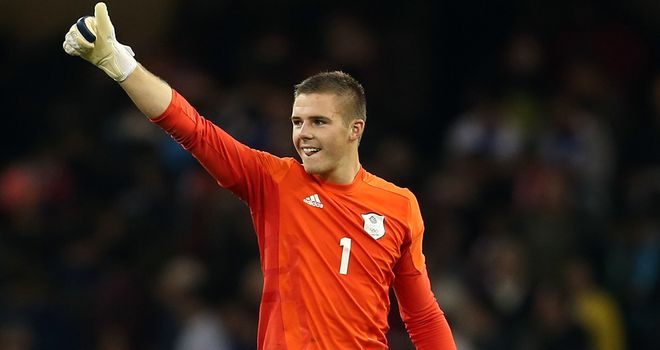 Jack Butland says it would be a special moment to make his first appearance for England on Wednesday but knows he still has a long way to go.
The Birmingham City goalkeeper, who spent time on loan at Cheltenham Town last season, has enjoyed a meteoric rise to prominence over the summer.
Having been included in the England squad for Euro 2012, he then played for Team GB at the Olympics and earned rave reviews for his performances.
He is now back on England duty ahead of the midweek friendly against Italy and could be in line for an international debut after Joe Hart was ruled out with a back problem.
"That's what dreams are made of. It has come because of an injury, which is unfortunate for Joe, but if I get the chance it will be a dream come true and it is something I can't stop thinking about," said the 19-year-old.
"I'd love the chance to be able to perform on that stage on Wednesday night."
Butland, who will become England's youngest ever goalkeeper if he plays against Italy, says he is determined to make the most of the opportunity and is not feeling too nervous.
He said: "If I get the chance, then fantastic, but I am still young and I am still working very hard, and if I get the chance then I will be over the moon.
"I am not going to put too much pressure on myself and expect anything, because not a lot of goalkeepers get the chance at such a young age so I am very privileged to be in this position.
"But I am going to try and take every bit in my stride and if it doesn't happen on Wednesday then I will be working even harder to make it happen on a different occasion.
"It is something I am very excited about and I have been striving towards, but I understand I have still got a long way to go. But this is where I want to be."
Learned
Butland insists he has learned a lot from his experiences at both Euro 2012 and the Olympics, having studied his team-mates in action in Poland and Ukraine and then had the opportunity to play for Stuart Pearce's Team GB.
"The Euros was a fantastic experience to see and train with top players and it was a big eye-opener for where I want to be for long periods of my career," he explained.
"On the other hand, being a part of Team GB, you are a part of so much more, and they were two slightly different worlds but just as inspiring and as important as each other."
He added: "As a goalkeeper experience is a massive thing, and there is nothing better than playing games, which thankfully I managed to do at the Olympics.
"Being able to see how the likes of Joe and Rob Green work and train, as well as the other lads in the squad, is just as beneficial as the Olympics.
"I can't explain how important that has been confidence-wise, and just to see where I am in my own ability and where I want to be, and I have truly enjoyed every minute of it."