Potters could land four more
Stoke assistant manager Dave Kemp has suggested the Potters could bring in as many as four more new faces before the transfer window closes.
Last Updated: 30/08/12 3:57pm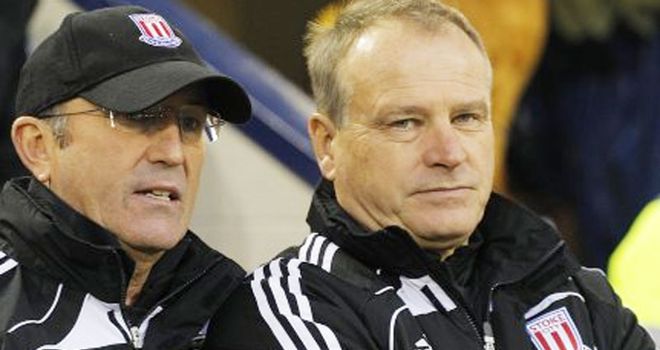 Stoke assistant manager Dave Kemp has suggested the Potters could bring in as many as four more new faces before the transfer window closes.
The Britannia Stadium club were extremely active at this point in the transfer window last year, eventually tying up deadline-day deals for Peter Crouch, Cameron Jerome and Wilson Palacios, and they are currently being linked with a host of names, including Tottenham midfielder Tom Huddlestone and striker Michael Owen, who is a free agent after being released by Manchester United.
Reports late on Wednesday also suggested Stoke are looking to sign Liverpool's Charlie Adam, and asked how many new players the Potters would ideally like to bring in between now and when the window closes, Kemp said: "Probably three or four if we were lucky.
"There is no guarantee, but it could be any number between zero and four - let's put it that way."
Adam
Quizzed about Scotland midfielder Adam, Kemp said: "I don't really want to discuss particular players, and he is not our player.
"He is a very good player, but so are lots of other people out there. If he becomes our player, or any other player comes, we can speak about them then."
On Huddlestone - who had last week looked set to complete a loan move to Stoke before speculation emerged that there had been problems with his medical - Kemp added: "I don't think there is that much progress with that at the moment, but that is not to say something won't happen between now and tomorrow night."
Kemp admits the club will be looking to move some squad members out if players are coming in, although he was again reluctant to give away any specifics and stressed that there was "nothing imminent" for the time being on that front.
Stoke have already recruited Michael Kightly, Geoff Cameron and Jamie Ness this summer, and are close to completing the signing of Rangers midfielder Maurice Edu after being given permission to finalise his work permit application.
United States international Edu has been a long-standing target for the Potters and last weekend agreed terms on a three-year deal and passed a medical.
The only hold-up was his work permit and, with the club confirming on their official website this morning that the Football Association have given approval for them to proceed with that, the move looks set to go through.
Stoke have cautioned, though, that the 26-year-old is unlikely to be available for the weekend clash with Wigan owing to the timescales involved.
Close
Edu is a 37-cap international for the States and spent four seasons with Rangers following a move from Toronto FC, winning three league titles with the Scottish club.
Kemp said: "He has been granted the work permit, but as usual, there are other bits of paper that have to be stamped and marked.
"He has another appointment tomorrow, I think with the Border Agency just to clarify that.
"But he has been granted the work permit, so hopefully we are very close to getting that over the line."