Chris Samba saddened by Blackburn's plight and feels more needs to be done to combat racism
Chris Samba is saddened by events at former employers Blackburn and feels more needs to be done to combat racism.
Last Updated: 25/10/12 10:02am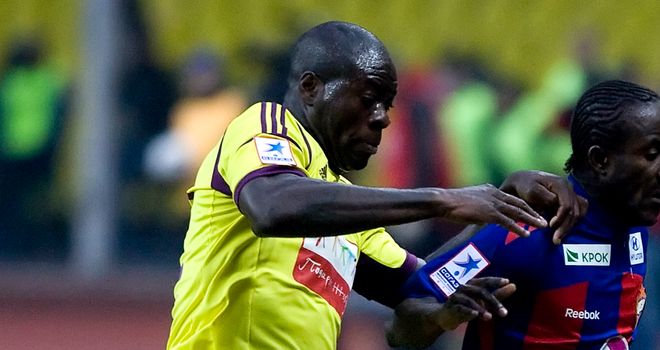 Samba is currently plying his trade in Russia, having left Ewood Park to link up with ambitious Anzhi in February.
He claims he took the decision to jump a sinking ship at Blackburn because he could see that things were going to turn sour under Venky's ownership.
Samba told the Daily Telegraph: "It was their club so they can do what they want. It is sad that a couple of people had the power to do good or wrong, but it seems they have done wrong.
"A long time ago, I said all these bad things could happen. It's bad for the English football culture. Blackburn have been a traditional English club for so many years, a big family club.
"Changing the manager was not the right thing to do. They paid for it. They got relegated. It is very sad for the club.
"It is a club that I still follow. I hope the club find a way to get back into the Premier League. They need to be in the Premier League."
Educate
Samba will be back in England on Thursday for a UEFA Europa League clash with Liverpool at Anfield.
He returns with a racism storm still raging on the back of the John Terry-Anton Ferdinand affair and the Congo international, who has been subjected to racist abuse during his short time in Russia, feels the formation of an 'independent organisation' could be good for the game.
"You open your eyes and you see that racism is everywhere," added Samba.
"We have to educate people. It's about respect. People shouldn't be judged on the colour of the skin.
"We saw that the Kick It Out organisation is not really efficient. It doesn't really have any power. That's why I think a lot of players are talking about an independent organisation that could generate more power. It could bring more weight to this kind of problem more quickly.
"The John Terry case took too long. They should have got sanctions in earlier."