West Ham boss Sam Allardyce pays tribute to Kevin Nolan
West Ham boss Sam Allardyce believes the signing of Kevin Nolan is the most important deal he has made as a manager.
Last Updated: 26/10/12 11:43pm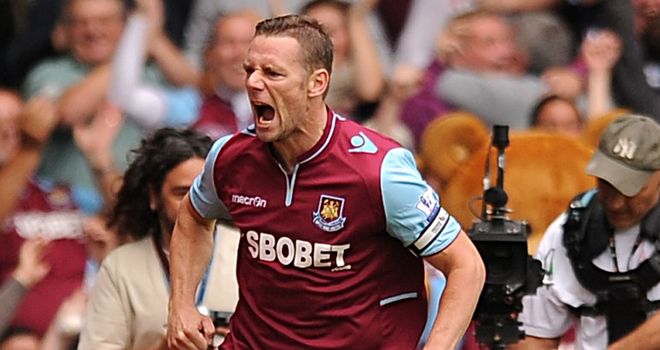 Nolan moved to Upton Park from Newcastle for £3m in June 2011 and played a key role as the Hammers clinched promotion back to the Premier League via the play-offs.
Allardyce reckons his captain, who he also managed at Bolton, has been a revelation on and off the field at West Ham.
"I always said that Kevin Nolan was the most important signing I ever made," he said.
"It wasn't just about what he does as a football player on the field, it's what he does as a captain. He unites dressing rooms by his experience and the fact that he is a leader of players.
"He could lead that dressing room and he could pull them altogether. He started that from the day he came in and that has grown as we have come on.
"As a goal-scoring midfield player, you have to look at his record. There are very few who have the same goal-scoring record on a consistent basis that Kevin has.
"It's no fluke that over the past few years - apart from one year out in the Championship when he scored 17 - he has scored every year a considerable amount of goals, always very close to double figure or just past double figures."