Mark Bunn hopes to push John Ruddy to be Norwich's first-choice keeper
Mark Bunn is hoping to push John Ruddy to be Norwich's first-choice keeper following his performance against Tottenham.
Last Updated: 01/11/12 8:15pm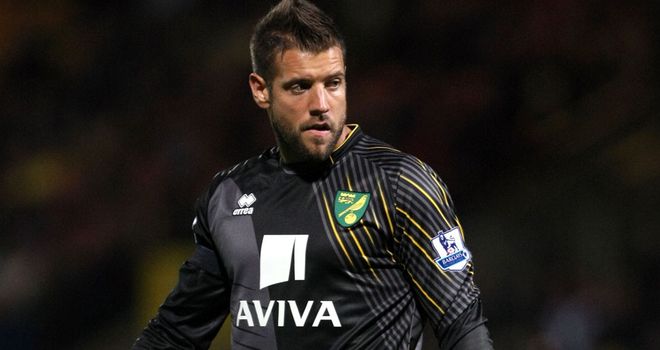 The 27-year-old joined Norwich from Blackburn Rovers before the close of the transfer window and has been restricted to just two appearances in the League Cup.
The second of those on Wednesday night saw Bunn keep out a late penalty and produce several important saves as Norwich beat Tottenham 2-1 at home to reach the quarter-finals.
Though Ruddy remains firmly the club's No.1 in the Premier League, Bunn is determined to grasp any chance to put pressure on the England international.
"When you come to a new club you just have to take your chance when you are given it and I think I did that," Bunn said.
"It was great to save the penalty and get the win. I just have to keep working hard now and maybe push Ruddy because he's a fantastic player, and I get on really well with him.
"I have a good relationship with all of the keepers here and the rest of the squad."
Bunn now hopes the Canaries can make it to Wembley for the first time since they beat Sunderland to win the League Cup in 1985.
"It's the first time we have got through for a while so it's great for Norwich as a club," Bunn said. "Now hopefully we can dream of going to Wembley.
"We have a great spirit and a great young team here. The lads are buzzing and hopefully we can keep on pushing hard."