Wigan chairman Dave Whelan is resigned to losing manager Roberto Martinez
Wigan chairman Dave Whelan remains convinced manager Roberto Martinez will one day leave for a top job in Europe.
Last Updated: 10/03/13 1:12pm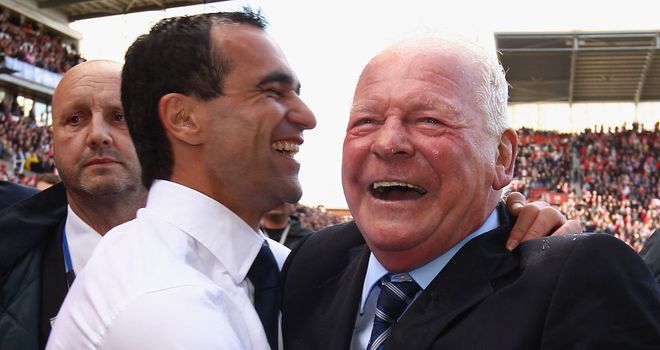 The Latics are through to the semi-finals of the FA Cup after stunning Everton with three goals in four minutes to secure a 3-0 win at Goodison Park on Saturday.
That victory has thrust Martinez back into the spotlight after he was previously linked with moves to Aston Villa and Liverpool.
But Whelan is hoping to retain the 39-year-old's services for as long as possible before he leaves the DW Stadium.
"We have known each other and been together a long time. Hopefully that will continue," he said.
"I will lose him, I don't think there is any question about that. He is a top-class manager and he will get one of the top clubs in Europe.
"The big clubs in Europe, when they want a manager, Roberto is obviously the man. He is stone-cold brilliant as a manager."
Whelan also told the Sunday Express: "If we win the Cup and stay in the Premier League, I will promise him a huge pay rise.
"We have another 10 cup finals in the Premier League. I don't believe the FA Cup will affect our league ambitions. We want cup success, but not at the expense of the league form."
Wigan slipped into the bottom three in the Premier League after Aston Villa won at Reading while they were enjoying their cup success but Whelan is convinced they have enough quality and spirit to once again avoid the dreaded drop.
"We have been there before and fought our way out of it. We are going to do exactly the same again, I hope," added Whelan. "We have played well all season and just had so many injuries and bad luck.
"We played Everton off the park and have done that so many times this season but at times we have had up to eight players injured. It is very difficult to take that kind of punishment."