Sepp Blatter: Michel Platini's multi-country plan will ruin Euro 2020
FIFA boss Sepp Blatter says UEFA's plans for a multi-country Euro 2020 will mean a finals deprived of "heart and soul".
Last Updated: 14/03/13 2:44pm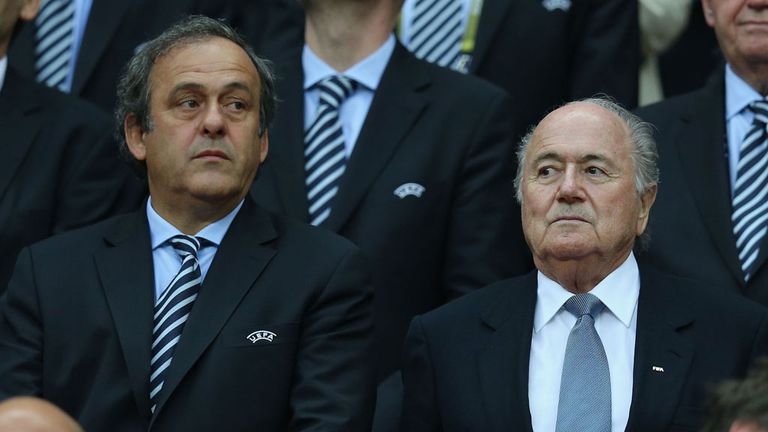 UEFA president Michel Platini - a potential replacement for Blatter when the Swiss stands down - recently announced the unprecedented plan to hold the 16th European Championship finals across the continent.
But Blatter, who has drawn criticism for suggesting the 2022 World Cup in Qatar could be held in the winter - is unconvinced by a plan he says was originally proposed by former Libyan leader Colonel Gaddafi.
"A tournament belongs in one country," Blatter said. "That way, you create identity and euphoria. Like, for example, the 'summer fairytale' in Germany in 2006.
"The 2020 tournament has been wasted; it's no longer a European Championships. It has got to be referred to as something else, only I don't know what. A European Championships like this lacks a heart and soul.
"I told Michel Platini that Colonel Gaddafi had spoken to me when the 2010 World Cup was awarded about the event taking place in 53 countries of Africa, with the final taking place in South Africa.
"He believed in that idea, and I told him it was unthinkable. So I told Platini, his idea is not novel."
Blatter has not ruled out running again for the FIFA presidency in 2015, when Platini could be an opponent.
He said: "When it is certain that FIFA will continue to be run the way it is now, remaining global, and that the pyramid will not collapse, then I would be happy to pass the baton onto a new president in 2015.
"Platini has his ideas for the future of FIFA which he wants to explain to the other continents, but he has not yet made up his mind."