Frank Lampard 'very proud' to become England's highest-scoring midfielder
Frank Lampard was 'very proud' to become England's highest-scoring midfielder with a goal against San Marino.
Last Updated: 23/03/13 6:06pm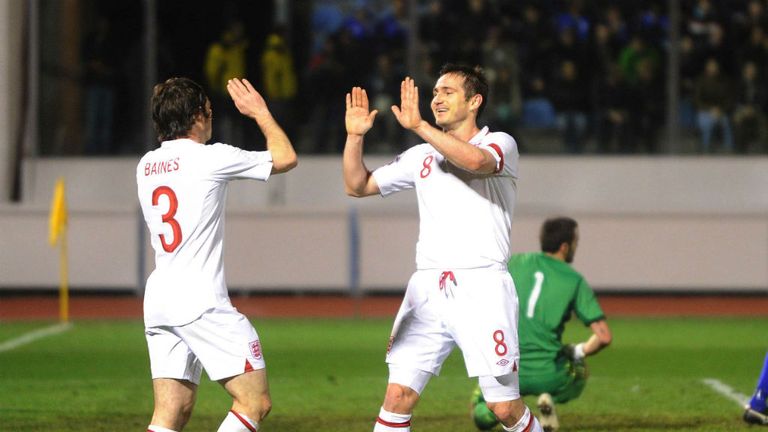 With regular skipper Steven Gerrard rested for Friday's World Cup qualifier, Lampard was handed the armband and he marked the occasion by scoring his 28th goal for his country.
His strike took him beyond David Platt's record and Lampard is now waiting to see if he will keep his place for Tuesday's qualifier away to group leaders Montenegro.
He said: "It feels very good to be England's highest midfield goalscorer. I'm very proud of that achievement.
"All my career, I've looked to score goals. It was great to be up there with the likes of the Bryan Robsons and the David Platts.
"Now I am above them and it was also an honour as always to wear the armband for your country. Stevie will be back on Tuesday so he will take it, but I am really pleased with how I played."
England head coach Roy Hodgson made several changes, including resting Gerrard, Glen Johnson, Ashley Cole, Danny Welbeck and James Milner.
But Lampard believes all the players who came into the side did themselves justice against a team officially ranked the worst in the world at 207th in the FIFA rankings.
He said: "We worked all week hard to concentrate on this game and then we could move on to the next one afterwards.
"We said if we approached it in the right way, then we would have no problems and that is what happened.
"Everyone who played did themselves a favour. Everyone turned up but Montenegro is a different game so we might approach it in a slightly different way.
"It was a great confidence boost for us to score so many goals. Whoever is asked, will be ready on Tuesday."