Aston Villa striker Christian Benteke thanks Paul Lambert for his faith
Christian Benteke admits he is keen to repay the faith shown in him by Aston Villa boss Paul Lambert.
Last Updated: 22/04/13 7:34pm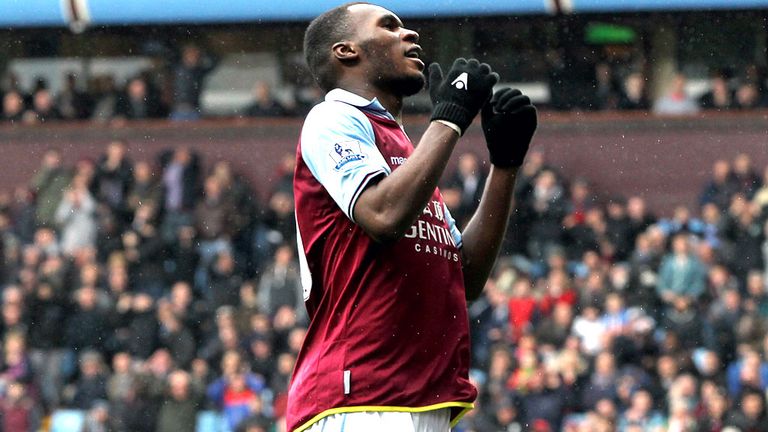 Belgian striker Benteke has been a revelation for Villa since his arrival from Genk last summer.
The 22-year-old's performances have reportedly attracted the interest of a number of Villa's Premier League rivals.
Benteke has revealed Lambert played a big part in persuading him to move to Villa and he is happy with how his first season has gone at the club.
"I like to give my all and do my job, and I have to give back to him for what he has given me," Benteke told the Birmingham Mail.
"I was keen to come here because the manager was so keen to have me here. It's different when people want you.
"If you come for yourself it's difficult, so it's better when someone wants you. Since I was young it was my dream to come here and to play in the Premier League.
"I think I have had a good start and I am full of confidence. For everybody, for me and for the club and for the fans, I think it has been good."
Villa are fighting for their lives at the wrong end of the Premier League table, but Benteke insists he does not fear the pressure of being involved in a relegation battle.
"This is the best league in the world and it's normal that there will be pressure surrounding the games," added Benteke. "If I was scared of pressure, I'd be playing ping-pong!
"We can't be satisfied to be where we are in the league but we know we can do something about this.
"We believe in ourselves, we believe in each other, the manager believes and the fans are behind us.
"We are growing as a team, we know we have to do our job and we will.
"We're a good team. Sometimes we have been unlucky in games but we are learning and growing together and it will take time with this team.
"Sometimes we play well but we have not won the game. This happens. Sometimes you have to win the game when you don't play well but you learn this."