Premier League: Vincent Kompany says he is more than happy at Manchester City
Manchester City captain Vincent Kompany insists he has no plans to quit the club this summer.
By Graeme Bailey - Tweet me: @graemebailey
Last Updated: 23/04/13 11:26am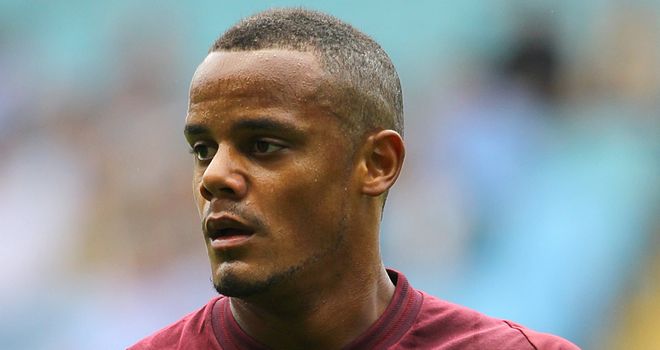 The inspirational Belgian defender has been linked with Spanish giants Barcelona, but Kompany is a firm fans' favourite and has five years left on his current deal.
And he has reaffirmed his commitment to the City cause as they will look to recapture the Premier League crown next season.
The 27-year-old told RMC: "I have no reason to go elsewhere.
"I am happy here, I have five years left and if you knew the plans for this team for the future. I consider that to be a real objective.
"We will win the Champions League one day. It is inevitable. The same question arose concerning the Premier League and we did it.
"With the investment being made in all areas of the club, that will surely come. When we see people like [Patrick] Vieira it's one of the things that can help us move forward. In Europe, we will be more competitive.
"Our season will also depend on the cup final. If we win, it'll be fine.
"It will not be easy. The Wembley pitch is huge and Wigan are a team who play good football with their Spanish coach. They play in an unusual system compared to the other teams of the Premier League.
"There is a risk but we were fully awake during the game we played against them recently. We will not be surprised."
He also ruled out any future move to Paris Saint Germain.
"Could I go to Paris Saint-Germain? No, I am a supporter of Marseille."