Champions League: Cliftonville's Jamie McGovern relishing clash with Celtic
Cliftonville defender Jamie McGovern has warned Celtic they are in for a rough ride in their Champions League qualifier.
Last Updated: 17/07/13 7:09pm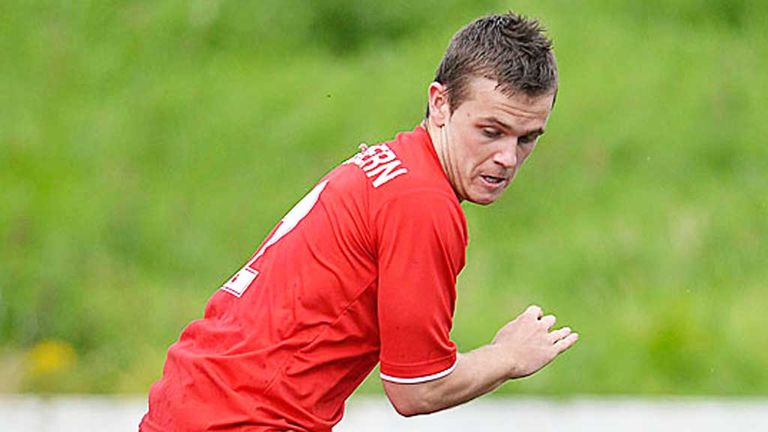 Celtic are without big names such as Gary Hooper, Joe Ledley and Charlie Mulgrew due to injury but remain overwhelming favourites to overcome the north Belfast part-timers.
Asked if there was a temptation to give Neil Lennon's men "the Irish league welcome early on to see if they fancy it," McGovern replied: "Of course. I would say that Cliftonville is known for the football but we can put our foot in where it hurts when it matters.
"As you say, the big name stars are coming, thinking that possibly they are in for an easy night but I am sure a few of the lads will say differently to that.
"It is a game to go down in history. If Celtic can beat Barcelona, why can't Cliftonville beat Celtic?
"Anything can happen in the 90 minutes. I think we are ready."
McGovern admits that he is just as star-struck as most of the other Reds players.
"I am not a Celtic fan as such but there are a few die-hards in our team and for them it is going to be a massive night," he added.
Cliftonville boss Tommy Breslin described the match as the biggest fixture in the club's history "by far" and was both bullish and realistic about the prospects of what would be a shock win.
"I am biased but I always think that any time we go out to play that we can win any game," he said.
"That's the attitude that I will be sending the players out with.
"We are a good side. Are we capable of beating Celtic? In a one-off game we probably are but whether it will be tomorrow night or not is another matter."
Breslin added: "If we were to win the game it would be a tremendous feat. If we were to get a draw it would be a credible result.
"But the last time I looked we were 11 or 12-1 (to win) and you show me a poor bookmaker."