Harry Redknapp insists Football Association are 'clueless'
Harry Redknapp has hit out at the FA, insisting the English game is being run by people who 'haven't got a clue'.
Last Updated: 07/10/13 7:46pm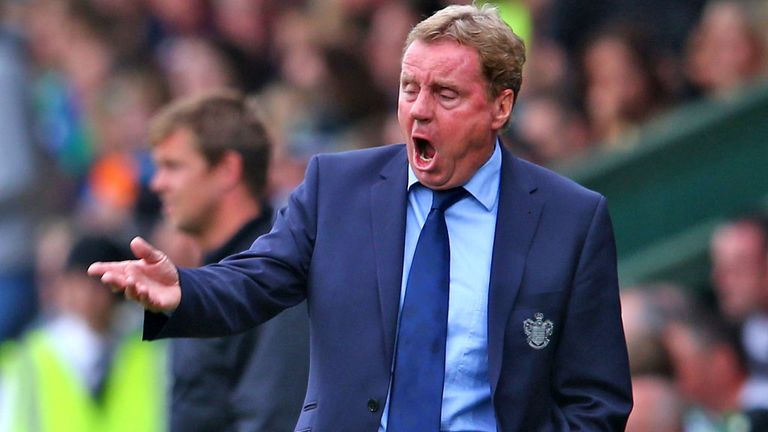 In the first part of a serialisation of his forthcoming autobiography, Redknapp has revealed in the Daily Mail that he feels English football is in the wrong hands.
But he insists it is not a diatribe at the FA over their failure to appoint him ahead of Roy Hodgson in early 2012.
"I wouldn't trust the FA to show me a good manager if their lives depended on it. How would they know? What clubs have they ever run? Who do they speak to who really knows the game?" Redknapp says.
"This isn't about them giving the England job to me or Roy Hodgson, but English football being run by people who really haven't got a clue. And they get to pick the England manager!"
Redknapp admits he fears England will struggle if they get to the World Cup in Brazil and suggested they were too direct during Euro 2012.
"If you look at England against Italy at Euro 2012, and I know it was difficult for Roy because he had just come in, but when your best pass completion statistic is from Joe Hart to Andy Carroll - goalkeeper to big lump of centre-forward, bypassing nine outfield players - you know you've got a problem," he said.
"No other major country would record a stat like that. Don't we all want to see England play the game properly?"
Rodgers
On talk of England's style of play, Redknapp confirmed that he would have brought in the then Swansea manager Brendan Rodgers as his number two - underlining the system he would have used.
"If I had become the England manager I would have taken Brendan Rodgers as my number two," he revealed.
"He had players at Swansea passing it like Franz Beckenbauer. You know how his teams are going to play before you kick off. They are going to pass, they are going to take risks; but England do not have that identity.
"Now we have Roy Hodgson who will keep England organised, for sure. I just hope he will also be a little bit bold, open up and try to get England playing the type of football we all want to see.
"Look at Brendan at Liverpool now - he still knows how he wants to play. He got rid of Andy Carroll because he wasn't in that plan. That is how Spain operate: this is how we play and we don't compromise.
"My thinking on Brendan was this: if he can do it with players from the lower leagues at Swansea what can he do with Rio and Terry or Rooney and Gerrard?"
And Redknapp revealed that Rodgers was 'up for it' when he approached him with the idea.
"When Tottenham played Swansea on April 1, 2012 I pulled Brendan after the game and said that if all the speculation about me and England was true would he consider coming to the European Championships in the summer as my part-time coach?
"I told him I wanted England to play with as much technical ambition as Swansea. He was up for it.
"If I got the job, he said, he would speak to the people at Swansea to get their permission. 'It would be a great experience for you, Brendan,' I told him. 'I want England to play like you play. Pass the ball, play and play and play.'
"It didn't work out. On April 1, I was contemplating the way forward for England with Brendan Rodgers - and on April 29 the FA offered the job to Roy Hodgson.
"I'll admit, I thought it was mine. Everyone seemed so certain, everyone I had met from all parts of the game seemed utterly convinced it was my job."
Popular
Redknapp did reveal that all England's top names at the time wanted him to get the job.
"Everyone said I was the people's choice, the only choice. All the senior players seemed to be up for me to get the job," he continued.
"I got quite a few text messages at the time from players saying they would love me to manage England: Steven Gerrard, Wayne Rooney, Rio Ferdinand, John Terry.
"But the FA went for Roy Hodgson to be the England manager - a man who is more their cup of tea.
"I have no hard feelings towards Roy. I phoned him to wish him good luck, and I meant it. He has managed some of the biggest clubs in the world. I hope England have the confidence to come up with a blueprint before the tournament in Brazil next summer because the last World Cup was a disaster."