Premier League: Jose Mourinho launches stinging verbal attack on Cardiff
Jose Mourinho has launched a stinging verbal attack on Cardiff for time-wasting at Stamford Bridge.
Last Updated: 22/10/13 10:54am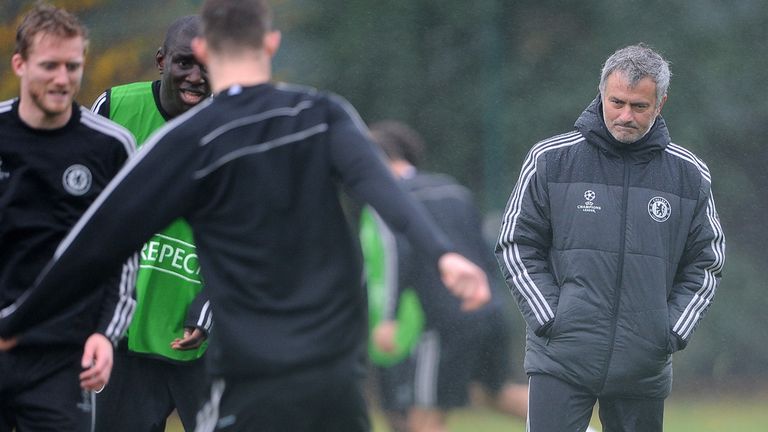 There were a number of controversial incidents in the game, none more so than Chelsea's disputed equaliser, and Mourinho was sent to the stands by referee Anthony Taylor midway through the second half.
The Portuguese complained after the official urged Branislav Ivanovic to take a throw-in quicker.
Mourinho was also critical of City goalkeeper David Marshall for allowing Samuel Eto'o to play the ball back for Eden Hazard before the Belgium playmaker's first-half leveller and said: "Even with space, he took 30 seconds.
"The goalkeeper has six seconds to have the ball, correct? They had almost half a minute. That's breaking the rules. We played our game, a difficult game, and we deserved to win.
"If I was in that game and I was paying for a ticket, I would be worried with the fact that every time the ball was out or stopped and our opponent had to put the ball back in the game, it took an average of 21.5 seconds.
"That is a waste of money. You pay for your ticket and every time the game stops you have to wait about half a minute?
"When you multiply that by the number of times the game was stopped, you pay for 90 minutes but you see 55 or 60. For me, that's breaking the rules. Scoring a goal with a hand, that breaks the rules.
"Score a goal that was not a goal, as happened in Germany last week, that's not funny. In England, there is not any more the goal that is not a goal, but in our time, John Terry was crying in the dressing room because we lost a semi-final in the Champions League and the ball didn't cross the line.
"Samuel did an intelligent action. When I arrived home the first thing I told my kid who likes to play goalkeeper was, 'See the goal and don't do that, eh?'
"If FIFA says that it's a foul, it's a foul but Samuel did well. Maybe the referee did wrong. But in my opinion, that should be allowed as it was for years."