Premier League: Tottenham striker Jermain Defoe feels it is the right time to leave
Tottenham striker Jermain Defoe admits a combination of reasons have prompted him to join MLS side Toronto.
Last Updated: 12/01/14 12:39pm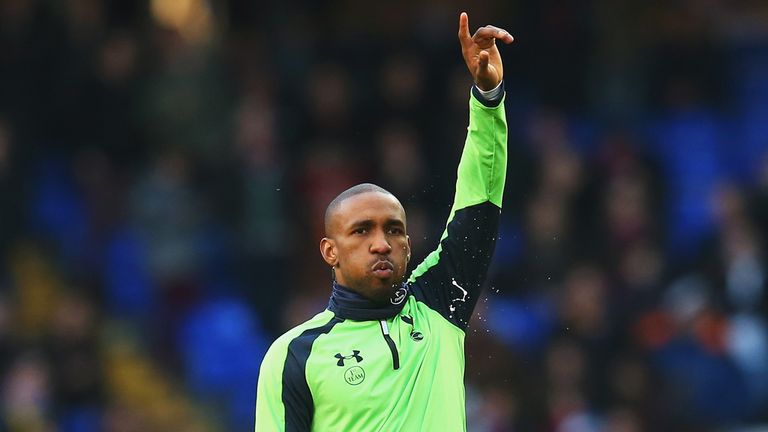 The England striker has scored 143 goals in two spells at White Hart Lane but, with just one year left on his current deal at Spurs, Defoe will leave north London for Canada at the end of February.
Defoe admits it will be a wrench to leave Tottenham after such a long time at the club but is looking forward to a new challenge.
"I was there nine years so you can imagine what it's like. I think everyone knows how I feel about Tottenham," he told Sky Sports News in an exclusive interview.
"I have had a special relationship with the fans over the years but it's football and players move on.
"At the age of 31 it is a great opportunity for me and my family."
Defoe has suffered a series of personal traumas in recent years and he revealed they, along with the financial security the move to Toronto would bring, helped persuade him to make the move.
"I've been through some things with my family over the last few years and sometimes it is nice to have a change," he added.
"I only had a year left on my contract at Tottenham. If you have a year left and someone comes in and offers you four, you have to think about it and consider your options. It's as simple as that."
Toronto head coach and former Tottenham team-mate Ryan Nelsen has suggested top four Premier League clubs were interested in signing Defoe.
But the player himself was keen to play down such suggestions and remains hopeful the move will not threaten his chances of securing a place in Roy Hodgson's World Cup squad.
"I wasn't aware of that. I've just tried to keep my head down and play football," he said of the transfer speculation.
"I don't try to read too much into speculation or listen to what people say. You just have to let your agents and the club you play for make the decisions."
As for the World Cup, he added: "Hopefully the manager knows what I can do. I am 31 and I have played in the Premiership my whole career.
"There's not much more I need to prove but it's down to the manager, he picks the squad.
"If I get picked to play for my country, I will be ready."