Arsene Wenger says Jack Wilshere and Alex Oxlade-Chamberlain are fit for England
Arsenal boss Arsene Wenger has declared Jack Wilshere and Alex Oxlade-Chamberlain fit for England's World Cup squad.
Last Updated: 12/05/14 9:58am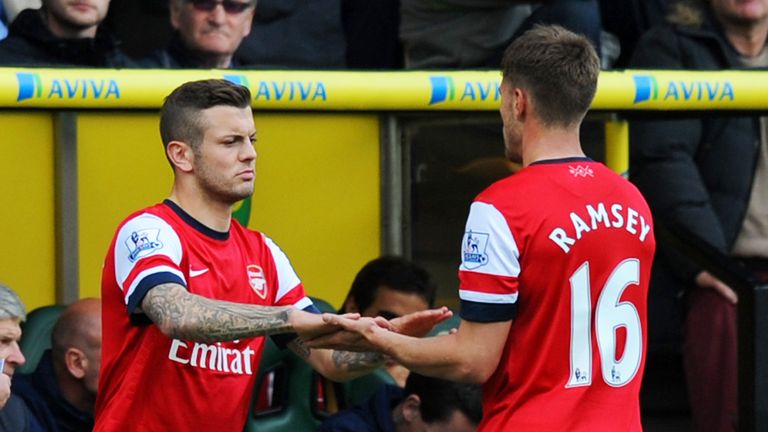 Wilshere made his return to action as a substitute in Sunday's win over Norwich after recovering from a broken foot he picked up on international duty.
Oxlade-Chamberlain is expected to return to training this week and could be in contention for next weekend's FA Cup final with Hull City having shaken off a groin problem.
The midfield duo are expected to be named in Roy Hodgson's England squad on Monday and Wenger insists both players will be ready for the trip to Brazil.
"Jack has been out for eight weeks now so it was good to have him back," said Wenger.
"It was important for him to play today. But the World Cup is not for another month so there is still plenty of time for him.
"But he has shown now that he is fit to play again so there is no problem about him being available for England.
"The news is also good for Alex Oxlade-Chamberlain. He should rejoin our squad later this week so he will also be available for Roy Hodgson to pick for England as well and I would certainly not be surprised if he was picked.
"And the good news for England is that the two players, Wilshere and Oxlade-Chamberlain, have definitely not been over played this season."
Watch live coverage of Roy Hodgson's England squad announcement on Sky Sports News on Monday from 2pm. You can also follow the announcement in our live Sky Sports Today blog
You can take on Roy Hodgson's role and select your 23-man England squad using the Sky Sports Squad Selector.