World Cup: Oscar Tabarez says Luis Suarez remains doubt for England game
Last Updated: 17/06/14 2:54pm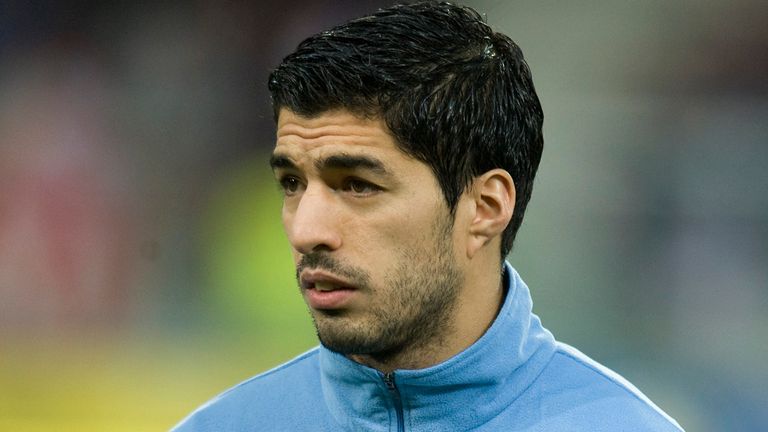 Uruguay coach Oscar Tabarez says there are no guarantees that Luis Suarez will be fit to face England on Thursday.
Suarez was an unused substitute as Uruguay were beaten 3-1 by Costa Rica on Saturday as they got their World Cup Group D campaign off to a terrible start.
They took the lead through Edinson Cavani's penalty but then conceded twice in eight minutes to Arsenal's Joel Campbell and Oscar Duarte's first international goal.
Substitute Marcos Urena added a late third before frustration got the better of Maxi Pereira who was sent off in added time for a wild hack at Campbell.
Suarez was left kicking his heels on the bench, having undergone keyhole surgery on his knee only last month.
Tabarez insists the Liverpool striker has recovered from the injury but he admits he still has doubts whether Suarez is fit enough to play in what - following England's 2-1 defeat to Italy - is a critical match for both teams.
"Luis Suarez is no longer injured, because he wouldn't have been a substitute if he was," he said.
"He has gone through the phases that we have foreseen in his recovery and we will have to see if he can find fitness.
"As we said from the beginning, if he meets the challenges, we will see how he can get into the team - and at which point.
"For us, he is a key player. He has great potential and has a lot to contribute to the team.
"We need him to reach a point where he can play in a match. It was he who demanded to be on the bench, not watching from the stands. It would have been very difficult for him to play though.
"He was a serious doubt, you need to have a certain fitness level - you need to be able to reach the highest standard.
"There were certain concerns over his fitness and it was very improbable that he would play. We will see about England."
Tabarez says he warned his team about the potential of Costa Rica.
"This can happen to any team, we had talked about this topic after what happened to Spain (who lost 5-1 to Holland)," Tabarez said.
"Neither team can believe that there are things that cannot happen. I don't know what Costa Rica's limit is but today they played well.
"They were tactically better than us, which reflects well on their coach and players. When they took the lead, they gave us space and let us play where we couldn't do them any harm.
"Now we're going to try and get back on track against England."