Former Arsenal vice-chairman David Dein backs FIFA over Luis Suarez's four-month ban
Last Updated: 02/07/14 10:52pm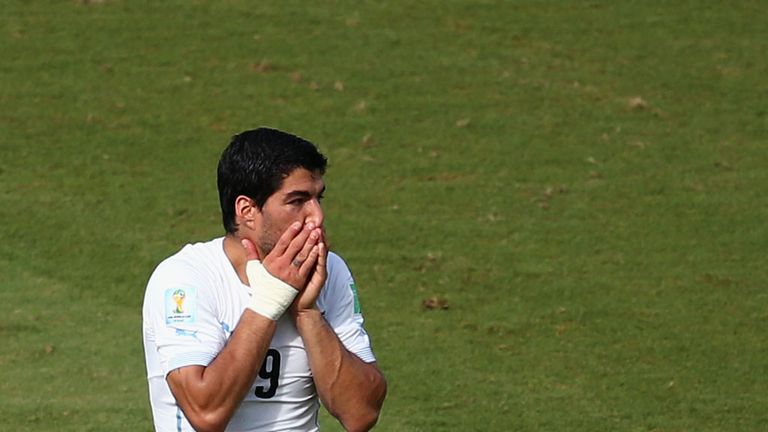 Former Arsenal vice-chairman David Dein says FIFA made the correct decision in banning Luis Suarez for four months, but believes there should have been a clause to ensure the player receives help.
The Liverpool and Uruguay striker cannot play club football until the end of October after biting Italy's Giorgio Chiellini at the World Cup, but Dein was satisfied with FIFA's process in applying the ban and expects the player to leave Anfield for Barcelona this summer. 
He told Sky Sports News: "I was satisfied on three counts. 
"One, the fact that FIFA acted expeditiously. It was very quick. Two, they had all the information they needed for judgement. And three, I thought the judgement was quite fair. If anything, they could have added the fact that he does need some help, some anger management. 
"Of course, he is a fantastic player, a world-class player, and yet you want to take that little edge out of the game. The other side of that argument is that he does play on the edge and that makes him the player he is. It's a difficult balance.
"We've seen it before where players have to have counselling and there's nothing wrong with that, because players are role models. They are under the microscope. 
"There are 32 cameras at every game. Apart from being huge talents, they have to be good on the field as well as off the field, because kids on a Sunday morning will want to act the same as their heroes."
According to Sky sources, Liverpool's managing director Ian Ayre met officials from Barcelona in London on Wednesday to discuss the potential transfer of Suarez - and Dein says there is nothing a club can do to stop a player from moving if he wishes to leave.
"In my experience, if a player wants to go, he goes, and that will be the outcome," he added. 
"If Suarez is determined to leave Liverpool, I can only see one outcome and that's a pity for the Premier League because he is a supreme talent.
"You want to keep the best talent you can in English football, we want to see the Premier League right at the top, but it's not an easy balance, with his character."