Wilson's Celtic joy
After an astonishing week for Celtic in which they stunned Barcelona to win 2-1 at Celtic Park, Sky Sports caught up with defender Kelvin Wilson to discuss a memorable triumph.
By Pete O'Rourke
Last Updated: 12/11/12 9:40am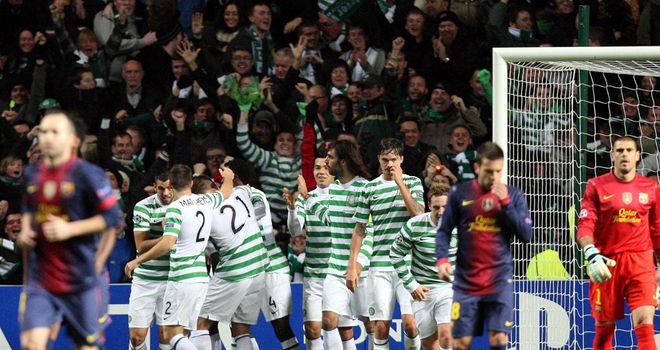 Goals from Victor Wanyama and Tony Watt for Celtic against Barcelona on Wednesday night set up a dramatic victory for the Scottish side. Lionel Messi ensured a nervy finish with a late strike but the Bhoys saw out a deserved win. Sky Sports caught up with defender Kelvin Wilson, who played the full game, to find out just how it felt to beat the Catalan giants...
So what was it like coming up against the likes of Lionel Messi and Xavi?
Well, we came up against them two weeks ago and I think everybody watches them on television anyway regardless of whether we're preparing to play against them so we know what they're all about.
It's pretty much a concentration game. You've got to be switched on all game. I think that was the key to our success last night.
Given what happened two weeks ago was there ever a point where you thought, 'We can't let it happen again'?
Of course, it's always at the back of your mind. Especially after the weekend against Dundee (United) as well when we were 2-0 up with four minutes to go and they score two. So when they got the first one it was just like, right, this isn't going to happen again. I think all the boys took that mentality and that's why we saw it out.
Were you aware of the whole atmosphere around that stadium as that game was developing or were you able to shut it out?
Both really. Obviously you've got to shut it out and get on with it but you can't really shut out all that noise! You're trying to tell the players in front of you where players are but it's hard to communicate. That's why being switched on and concentrating was one of the key factors winning the game.
And was it a good party afterwards, Kelvin?
Well I got drug tested afterwards so I didn't really get the chance to go into the changing room with the lads afterwards because it took me ages to do that! But yeah I had family and friends up and we had a few drinks.
I imagine it's one of those results and nights that will live long in your memory?
Oh definitely. I think for any footballer, to beat the best team in the world - that will stick with you. Barcelona don't lose many games and we've achieved something great so everybody deserves to just sit down and take it in.
Where does it rank among your achievements?
It's got to be the best. To beat Barcelona at Celtic Park in front of a full house on a European night? It's without doubt the best.
How much credit does Neil Lennon deserve?
The gaffer's done a great job. I think it's been a two-and-a-half year plan for him. He's been building a team and now he's getting the team he wants.
Obviously we're not the finished article at all but he's got a team he's comfortable and confident with so he can just build from that and hopefully carry on the success at the club.
Have you thought yet how far you can go in this competition?
We haven't been in the competition for a few years and for a lot of lads it's the first time so we're just going to take each game and tick them off. Keep going, take each game as it comes and don't get carried away.
The Benfica game will be a key game won't it after they beat Spartak Moscow?
Yeah definitely, that was a key win [for Benfica]. It balances it out because I think Moscow beat them last time. But it was always going to be a tight league. I think Barcelona were the obvious ones and then it was going to be between the rest of us.
And how important is this for the league campaign because it would be easy to lose a bit of focus after what you went through last night?
Obviously it's going to be a massive come down from a European match at Celtic Park. But that's what gets us there so we can't forget that and we've got to take it seriously - which we have and we will do. So I don't think that should be a problem.
Fraser Forster was superb against Barcelona. Do you think he can go on and make himself the England No 1?
Definitely in the squad pushing Joe Hart all the way. But Joe Hart is Joe Hart. In my eyes he's probably in the top two or three in the world so it's going to be tough for Frase to push Joe out. But he's definitely in the squads now and that's well deserved. I think he's producing week-in week-out now.
And how good has Tony Watt been?
Yeah, Tony is a brilliant talent. He's powerful and different to the other strikers we've got at the club so I think that's good for the gaffer to pick him for certain games and be able to bring him on. But he's a real handful. I train against him and he's a strong boy for his age.
And Victor Wanyama is getting a lot of credit too...
Victor is different class. He came in at the same time as me and he's a young boy but very mature on the pitch. He can dictate his own career. He's that good in my eyes.
We could probably go through the whole team! We've talked about Fraser Forster getting England recognition but what about you Kelvin?
Haha! I'm happy with my career at the minute and I'll just concentrate on my club football. Seriously, it's not even crossed my mind. I'm not getting any younger. I'm 27 and you can't get carried away with things.
This article first appeared in the Sky Sportzine. Sign up here.